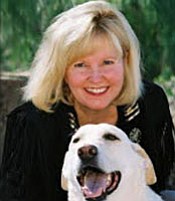 Judy Bluhm is a writer and a local Realtor. Have a story or a comment? Email Judy at judy@judybluhm.com.
Recent Stories

Do peacocks fly?
We watch with horror the news coverage of mass murders of school children and then, with further disbelief, the fall-out of blame, outrage, prayers, opinions, accusations, analysis and all manner of political warfare.
The Olympics gave us all the chance to watch the world's best athletes attempt to achieve the incredible.
Last week to usher in Mardi Gras, my friend invited me on Fat Tuesday to a ladies luncheon and served King Cake.
A Supermoon, a Blue Moon and a total lunar eclipse.
The horror coming out of Oregon now that folks might have to pump their own gasoline is nothing short of mind-boggling.
The world is coming to an end. It will not happen because of a crazy guy with a bad haircut in North Korea.
Have you ever thought about becoming a polar bear? Dear Readers, there are seriously deranged people in other parts of the world that seem to think running half naked into freezing lakes or 39 degree oceans is a whole lot of fun.
Are you ready to embrace 2018? Well, ready or not, here it comes. Time, once again, is marching into the beginning of a new calendar, pulling us along with it.