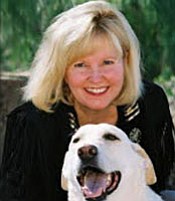 Judy Bluhm is a writer and a local Realtor. Have a story or a comment? Email Judy at judy@judybluhm.com.
Recent Stories

Did you enjoy the Veterans Day Parade?
Amazon wants to visit you.
Looking for a reason to celebrate? Summer is over!
My eyes have been opened (and wallet almost emptied) because I have seen the Purse Promise Land.

Never give up, because just when you think the game is over, all is lost, things will never be the same, a small miracle might occur.

First came the wind. Trees dropping, howling, swirling terror that tore off roofs and downed telephone poles. Then came the rain.
Have you read any good headlines lately?
Manuel, where art thou? Our kind and friendly tarantula has not yet arrived at my friend Diane Wilson's house for his annual visit!
Are you feeling rested? Just wondering how your official "Day of Rest" ... otherwise called Labor Day ... is turning out.