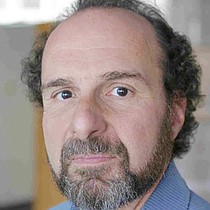 Howard Fischer is a veteran journalist who has reported on state government and legal affairs in Arizona since 1982, the last 27 for Capitol Media Services which he founded in 1991. Fischer's news reports appear in daily and weekly newspapers around the state, and are heard on Arizona Public Radio.
Recent Stories

PHOENIX — The Arizona Supreme Court court is poised to decide exactly how far business owners can go in refusing to serve customers because of their sexual orientation.
About 126,000 Arizonans who get free health care will soon be required to work, if they can.
CPS, DPS and teachers among recipients
Flush with cash, Gov. Doug Ducey is proposing an $11.4 billion spending plan for the coming year.

A Peoria Republican lawmaker is moving to alter state law to ensure that edible forms of medical marijuana remain legally available to patients.

House Democrats are balking at ratifying a proposed drought contingency plan over what they see as a key missing element.

The number of pounds of medical marijuana being purchased and consumed in Arizona is increasing at a rate twice as fast as the number of people legally entitled to use it.

House Speaker Rusty Bowers warned Tuesday he won't be pressured by Gov. Doug Ducey into approving a drought contingency plan by a Jan. 31 deadline that he and other lawmakers have yet to see.

The U.S. Supreme Court on Monday refused to reinstate a 2002 voter-approved amendment to the Arizona Constitution which denied bail to anyone accused of rape.
A proposal by Gov. Doug Ducey to abolish so-called legislative immunity is getting some negative reaction from some lawmakers who enjoy its protections - and would have to vote to put it on the ballot for voters to repeal.

Legislative Democrats trotted out their usual priorities Monday as the session convenes.