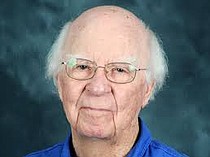 Dr. Ron Barnes is a columnist for The Daily Courier.
Recent Stories
Remember Bertrand Russell's statement? "It has been said that man is a rational animal.
I love wit! I especially admire it when really hard times are hitting us.
Over the past several weeks, so many families in Texas learned an important lesson about what it means to be citizens, neighbors and members of the human community.
"I hope my retirement years will be happy." "I believe my retirement years will be fulfilling." "I am convinced my retirement years will be enjoyable." Hopes, beliefs and convictions.
There is no question that many of us are old.
To all of you who have written checks and raised money to feed our hungry kids in the four adjoining public school districts, THANK YOU!
Among my favorite books in our library are those written by Dietrich Bonhoeffer. I never tire of re-reading them.
Increasingly I am becoming troubled that far too many folks don't know the difference between heroes and idols.
He swaggered out of the Palace Bar, obviously pleased with himself.
For many years and for many reasons I have appreciated solitude.