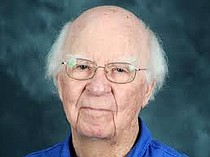 Dr. Ron Barnes is a columnist for The Daily Courier.
Recent Stories
During the past several years I have spent considerable time thinking about immigrants.
First a personal note: On behalf of my family, I want to express my deepest appreciation to the many of you who wrote personal notes following the death of My Beloved, sent checks to support the Betsy and Ron Barnes Youth Scholarship and/or attended the Celebration of Life gathering on Saturday morning, Feb. 4.
Tomorrow we celebrate the birthday of Martin Luther King Jr.
Remember when you first laid eyes on the person who became your husband or wife?
Let's listen for a moment to Lao Tzu who wrote these words 600 years before the birth of Christ:
As we awaken this day from our warm beds And eat our hurried breakfasts Before sitting by the Christmas tree To give gifts to each other, Let's take a moment to reflect
I think it's time for you and me to lighten up, so I decided to turn my limited attention span to humor.
Travel back with me to when you were in elementary school.
"Life handed me a lousy script." "Give it back," I replied.
Along with pounds one of the things we accumulate as we age are lessons.