Ted Johnson enjoys hiking in the desert as much as he does more 'scenic' locations.
Stories this photo appears in: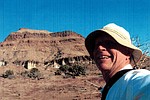 Claudia asked, "Why hike in the desert?" Like any nature lover, she associates a more positive outdoor experience with green landscapes because they foster a feeling of refreshment. Where there is greenery, there is also water: creeks, fountains, lakes, or waterfalls.