Originally Published: September 15, 2018 12:22 a.m.
Whether it was simply a desire to get out of the house and do something like Tatton White, or coming to represent his family and Scottish heritage like Ethan McCallum, the 2018 Prescott Highland Games and Celtic Faire had no shortage of attendees Saturday, Sept. 15.
Both White and McCallum said they were having a great time, too.
The event, put on by the Prescott Area Celtic Society, had plenty of everything from music and food to vendors and athletic competitions.
Russell Miller, a bagpiper with Southwest Skye Pipes and Drums, said he's been playing bagpipes for 10 years after finding them electrifying upon hearing them live in a Pasadena parade. He said he always enjoys coming to events like the Highland Games.
"It's sort of like hanging around with your nerdy friends," he said. "Except we're all Scots."
One aspect of the competitions was the caber toss, in which participants throw large tapered poles. Allison Hawn was participating in the women's lightweight division and said she's been doing the Highland Games for about 2-1/2 years.
The Caber Toss is unlike any other kind of sporting event anyone will ever do, Hawn said. In fact, there's no way to train for it except to just do it.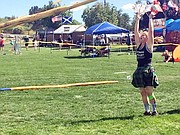 "It's definitely a harder sport," Hawn said. "I used to be a Muay Thai kick boxer, and I would definitely say this is harder."
Nevertheless, she said she enjoys participating and has a great time doing so. With Scottish heritage, her family has been doing it for generations, she added.
The 2018 Prescott Highland Games and Celtic Faire continue through Sunday, Sept. 16, from 9 a.m. to 4 p.m. at Watson Lake, 3101 Watson Lake Park Road. Tickets are $18 for adults; $15 for seniors, students and military; and free for children younger than 5.
The athletic competitions continue with more caber tossing and other events throughout the day with a full schedule of entertainment starting at 10:30 a.m. in the main tent. Pets are welcome.
For more information about the Celtic Society or the 2018 Prescott Highland Games and Celtic Faire, visit www.prescottareacelticsociety.com.
More like this story
SUBMIT FEEDBACK
Click Below to:
This Week's Circulars
To view money-saving ads...