Originally Published: May 20, 2018 6 a.m.
Farm Provisions restaurant opens in downtown Prescott
Farm Provisions, a new restaurant, has opened at 148 N. Montezuma Street in Prescott. Co-owner Brittany Peters said they offer an "American-style" menu, with dishes from lobster to hamburgers.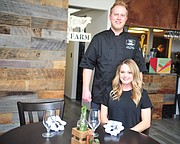 The slogan is "Simple food, elevated," she said, and that means they'll "create good food from the farm to the table," with as much of it locally sourced as possible.
"We'll be getting in grass-fed beef, and fresh seafood flown in daily," she said.

Ryan Peters, Brittany's husband, is the executive chef, and he comes with 18 years' experience in upscale kitchens.
"We fell in love with Prescott," and, she said, "we love the people here – everyone's just so nice. It's where we eventually want to raise our future family."
For more information, call 928-776-3001.
Prescott True Value wins company "Best Hardware Store in Town" award
The True Value hardware store located at 846 Miller Valley Road was one of 13 nationwide awarded the company's "Best Hardware Store in Town" designation.
"Prescott True Value … is one of our top performers," said John Hartmann, president and CEO of True Value Company. "[Co-owner] Suzanne [Springer] and her store represent the attention to quality, service, and community that defines True Value."
Each store nominated was evaluated based on the store's physical appearance, product selection competitive pricing, promotional sales, and customer assistance.
To submit items for the Courier's Need2Know, email twieds@prescottaz.com; for legal advertisements, email tbryant@prescottaz.com.