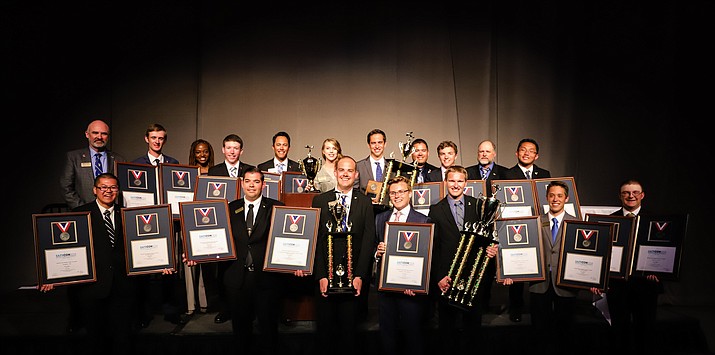 Originally Published: May 18, 2018 5:50 a.m.

In a history-making show of aviation skills, Embry-Riddle Aeronautical University's Prescott Campus' Golden Eagles Flight Team captured its third straight and 12th national championship title at the 2018 National Intercollegiate Flying Association (NIFA) Safety and Flight Evaluation Conference (SAFECON) competition in Indiana.
The event brings together collegiate aviation teams from around the United States to compete in flight and ground events, such as navigation, computer accuracy, preflight inspection and more.
This year it was held April 30 through May 5 at Indiana State University. The event featured more than 350 students from nearly 30 of the nation's top colleges with aviation programs.
With the 2018 top title, Prescott's Golden Eagles have now won the NIFA SAFECON national championship 12 times since 1993. The team also has an unbroken, 34-year record as regional champion.
In addition to being the first competing team to win three times in a row, Prescott's Golden Eagles finished with 544 points, the highest not only in the team's history but most points earned by any team since the establishment of the competition's modern scoring system. They also won all team-based honors, including the coveted Judges Championship Trophy, Flight Events Championship Trophy and the Ground Events Championship Trophy.
With three of the Top 10 Scoring Contestants overall — Prescott's Jacob Cobain, Ryan O'Connor and Nick Moore — Embry-Riddle was the most represented school for individual scores in the top 10. Ben Klinkman-Sinatra earned the Outstanding Team Member Award, while Nick Moore was named Regional Top Pilot.
Overall, the Golden Eagles Flight Team members finished in the top 10 in 12 categories. First-place winners in the individual categories include Colin Ho-Tseung in Aircraft Recognition, Colin Kennedy in Computer Accuracy, Nick Moore and Anthony Platt in CRM/LOFT, Madeline Mearsch in Ground Trainer, Bat-Amgalan Batbileg and Spencer Thomas in Navigation, and Jacob Cobian in Power-Off Landing. In the Top Pilot competition, Golden Eagles Ryan O'Connor, Jacob Cobian and Madeline Mearsch all made the top 10.
"The dedication, commitment to excellence and unparalleled skills of our student flight teams from the Arizona and Florida campuses is exemplified by their continuing success in this important competition," said Embry-Riddle President Dr. P. Barry Butler.
Sam Morris, the team's head coach, said he is proud of the team and its accomplishments.
"Each year the team takes on a new personality and it was clear, early on, that this team had the potential to make NIFA history," Morris said.
Team captain Nick Moore said he has never been more proud to be a part of the flight team.
"The 'secret sauce' is definitely in the culture this team has developed," Moore said. "Every team member is willing to put the team above themselves and do what they know is right for the group. We are able to be so dominant because every person is willing to go the extra mile and contribute to the team in any way they can."
For a complete list of the 2018 NIFA SAFECON national competition results, go to nifa.aero/wp-content/uploads/SAFECON-2018-Overall-Results.pdf
Information provided by Embry-Riddle Aeronautical University