Originally Published: May 18, 2018 5:51 a.m.
Tucson man accused of killing his mother-in-law dies in jail
TUCSON, Ariz. (AP) — A Tucson man, accused of killing his mother-in-law and beating and choking his estranged wife after allegedly kidnapping both women, has died at a Pima County jail.
County sheriff's officials say 43-year-old Norman Schrank was found unresponsive in his cell early Wednesday and pronounced dead.
Homicide detectives determined it was a suicide.
Schrank had been jailed on a $2 million bond on suspicion of first-degree murder, kidnapping, vehicle theft and abandoning or concealing a dead body.
He also faced an aggravated assault charge for allegedly injuring 41-year-old Jeni McClurg, who reportedly had asked Schrank recently for a divorce.
Sheriff's officials say the body of 65-year-old Sachiko McClurg hasn't been found, but she's presumed dead.
Jeni McClurg and her mother went missing May 1. Schrank was arrested days later in Pine.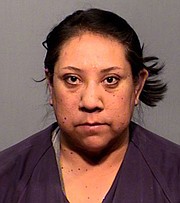 Board suspends driving rights for Navajo leader's daughter
WINDOW ROCK, Ariz. (AP) — A Navajo Nation board has suspended driving privileges for the daughter of the tribal president, weeks after she was suspected of driving while intoxicated.
Karis Begaye is on administrative leave from her job as chief legal counsel to President Russell Begaye's office.
The Arizona Department of Public Safety arrested her last month on suspicion of driving while intoxicated after an accident south of Flagstaff. No formal charges have been filed.
The tribe's Motor Vehicle Review Board suspended Karis Begaye's permit to operate a tribal vehicle this week.
Board Chairwoman Sandra Dalgai says the suspension is temporary, as the board awaits a response to complaints filed over the accident.
She says the board has set a Tuesday deadline for the president's office to respond.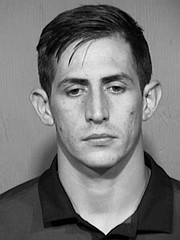 Recruiter charged with sexual conduct with minor
PHOENIX (AP) — A U.S. Army soldier assigned as a recruiter at a Phoenix-area high school is accused of sexual conduct with a 17-year-old female student, who was applying to join the military.
Buckeye police arrested 25-year-old Joseph Humberto Cooper-Breceda after investigating the girl's report to police that she and Cooper-Breceda had sexual encounters.
An indictment issued Wednesday charges Cooper-Breceda with sexual conduct with a minor, a felony.
Court records don't list a defense attorney, who could comment on the allegations.
A police probable-cause statement says the girl made a confrontation call to Cooper-Breceda and that he acknowledged having a sexual relationship with her.