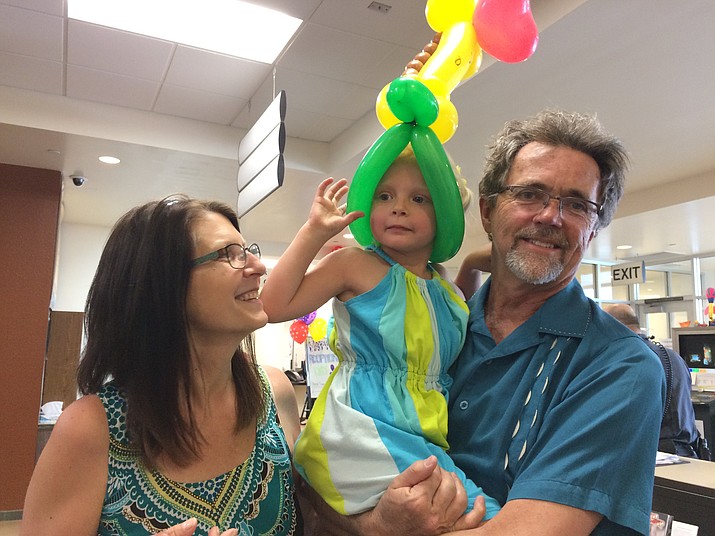 Originally Published: May 18, 2018 5:53 a.m.
Sebellah Young, 3, calls her dad "Pops" and her mom "Lolli." Together, the Young family appeared before a Juvenile Court judge on May 11, one of 14 adoption hearings that took place on National Adoption Day at the Yavapai County Juvenile Justice Center in Prescott.
Allene and Rich Young, grandparents to the little girl, have cared for Sebellah since she was 4 months old. Exposed before birth to heroin, methamphetamine, and a Xanax-type drug, the child knows her now-official parents as Lolli and Pops.
"The challenges are great, but the joys are greater," Allene Young said. "It's definitely hard to relearn how to do this. Everything's changed, like not drinking juice."
From a balloon archway outside the Juvenile Justice Center to the balloon-decorated courtroom, families and children celebrated the final step in a sometimes long adoption process.
Thanks to the Mountain Top and Thumb Butte quilters, each child went home with a handstitched quilt. Thumb Butte Quilters and the CASA for Kids program also purchased stuffed animals for the children. Cody Williams created extraordinary balloon figures for each child.
Outside, Hero Party Rentals provided hotdogs and popcorn, cotton candy and bouncy houses. A current foster parent furnished a photo booth on wheels.
Cecilia Miller adopted her two grand-nephews, Benjamin, 12, and Kenneth, 10. The boys came to live with their great-aunt almost two years ago when "circumstances were hard." Cecilia calls them a "blessing" to have in the home with her.
"They are good for me, and I am good for them," she said.
The boys also gained a big brother, Austin, 23, and big sister, Anna, 18.
More like this story