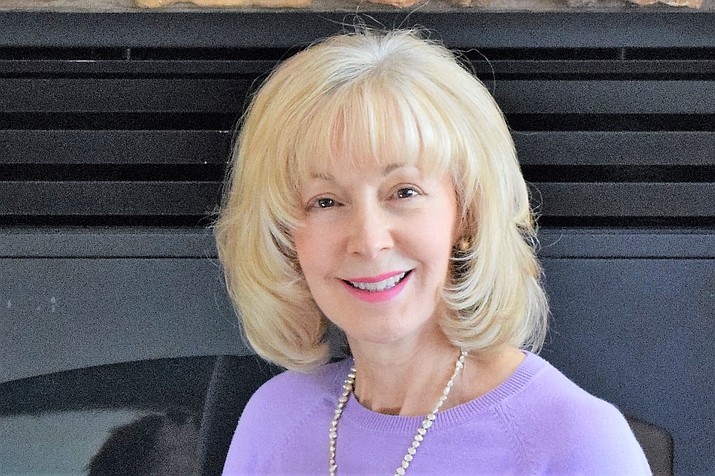 Originally Published: May 17, 2018 6:02 a.m.
Beverley Danusis will lead an event from 7 to 9 p.m. Friday, May 18, on the third floor of the Elks Performing Arts Center — 117 E. Gurley St., Prescott — to help girls and women "uncover the true natures of their personalities and the Greek goddesses who match them," Danusis wrote in a press release.
Tickets are available online at http://bit.ly/GoddessGirls.
Her presentation in Prescott is a fundraiser for the nonprofit West Yavapai Guidance Clinic, in honor of Mental Health Month, May.
Danusis has appeared on numerous TV shows and a PBS special. On her website, she writes of her experiences as an abused child and wife.
Her presentation Friday will begin with a brief quiz for audience members, to discover their primary and secondary Greek goddesses, Danusis wrote in her media release.
Some of the qualities that the quiz is intended to reveal include, for example, those of Athena, the goddess of leadership, and Persephone, goddess of intuition, and those of five other Greek goddesses, as well.
Her presentation is "designed to help foster females of all ages in reaching a state of self-acceptance, self-awareness and self-empowerment by identifying their inborn strengths and weaknesses," Danusis wrote. "Even though my presentation is intended to be entertaining, it will also help attendees gain knowledge which may enable them to resolve some inner conflicts that can interfere with their living life to its fullest."
She believes that encouraging girls and women to embrace their inner wisdom, or "goddess gifts," is an effective way to better understand their innate personalities and she advocates a daily practice of self-empowerment.
She notes that women are often raised to assume roles that do not reflect their innate personalities, and the difference can cause significant mental stresses. As examples, she cites girls who were reared to become traditional homemakers, rather than to pursue any non-traditional career, such as engineering.
Danusis will also answer questions from the audience concerning her views on the benefits of identifying and making "the best use of the Greek goddesses."
She urges men to attend her presentation, too.
"I encourage men to attend, as well," stated Danusis in her media release. "Husbands and boyfriends find it highly beneficial to get a better understanding of the 'mysterious' women in their lives, and for fathers of pre-teen and teen daughters, this presentation supports dads in becoming more effective in relating to their girls."
Her website notes, "One of the most critical issues facing women and girls in society today is empowerment through self-acceptance. Because of this issue many give up in their pursuit to success and happiness, and those who find success, still lack fulfillment. It is a troubling dilemma which affects women and girls globally creating major society issues worldwide."
Some of the negative effects that she associates with a lack of self-acceptance and empowerment include low self-esteem, poor self-image, abuse of self and others, relationship issues, lack of education and feelings of powerlessness.
"Much of what is taught and not taught at an early age has an impressionable impact on young girls, lasting into adulthood," Danusis writes at her website. "Our society has created an ideal image too many women and girls try to emulate. Many believe this is the only way to be successful, beautiful, and happy. Because of attempting to live this false image, we continue to hear tragic stories of depression, struggle, abuse, lives destroyed, suicide, all because females don't understand how to accept who they are, and most don't even know how an authentic female should look, act, and feel."
On her website, Danusis complains of the vast sums spent housing prisoners, rather than educating children, and she notes domestic violence, drug abuse, teen suicide, school dropouts and body dysmorphic syndrome as some of the widespread ills associated with a lack of self acceptance.
"Worldwide, we still lack the answers to empower our children to be better and healthier than previous generations," she writes. "Women in most societies, remain the primary caretakers and teachers of children."
She notes the "goddess woman" as a recently embraced trend in various markets, including Nike goddess wear and perfumes, clothing, jewelry, art, Gillette razors, goddess-oriented decorations, skin care, aromatherapy and hair products by Avon, as well as the "Athena Award," an international recognition of women in leadership in their local community. Other businesses such as Goddess Facility Supplies and ArtemisPress Goddess Gear Shop are growing trends in the shift to the acceptance of goddess marketing, she writes.
"Women are beginning to embrace their goddess power," she writes.
Her trademarked program is called Empowered living: Embracing the Goddesses Within. She developed it when she found herself with two young children and no job and, as she writes, "she took the road to empowerment."
She describes a personal journey that led her beyond dependence on welfare to becoming a successful sales representative.
Within a decade, she had become a corporate officer to one of the top cosmetic companies in the country and was "Business Woman" of the year in Los Angeles.
She then left the corporate arena to pursue her passion to teach her Empowered Living program, she writes. She has spoken to audiences in more than a dozen countries, and her award-winning book, "Sophia and the Seven Goddesses: A Journey of Self-Acceptance" has received the Creative Child Magazine Award and the prestigious Dove Foundation "Family-Approved" Seal.

Information provided by Beverley Danusis.