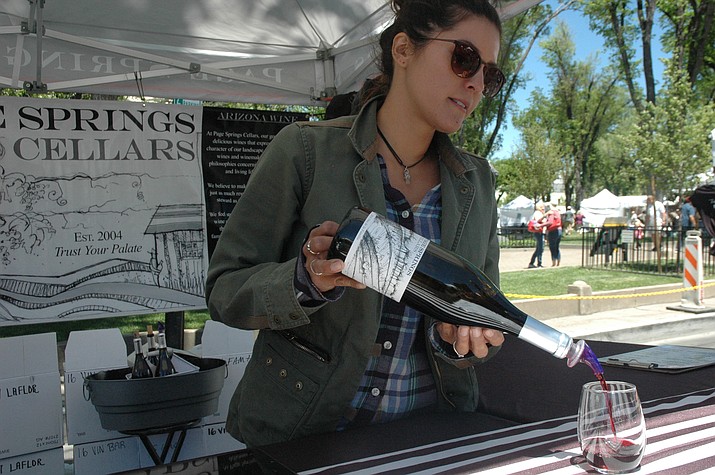 Originally Published: May 16, 2018 5:56 a.m.
As the day rolled into the afternoon Saturday, May 12, Pete Lane stood out on a small section of courthouse plaza while a popular song by The Beatles played, amplified by a bicycle horn.
Selling his speakers made out of wood and repurposed horns at the Mountain Artists Guild's Art & Wine Festival Saturday, Lane said he's been making the speakers for almost five years and started doing so because he was bored.
"When I retired, I didn't want to be the guy that made birdhouses and cutting boards," he said. "I just wanted to do something different."
A woodworker all his life, Lane said he likes to listen to music in his shop and came up with the idea to make the music louder.
As a one man operation, he said he sells as many as he makes and can't make them fast enough.
While the smaller horns he uses are repurposed bicycle horns, the larger horns he uses are a little bit older, Lane said. Some come from Model T and Model A cars, one was from a horse drawn carriage out of London and another was a Rubes Horn, made for cars by Henry Ford from 1913 to 1915, he said.
"These are extremely rare," Lane said, explaining that many antique car horns were ripped off cars during the war for the brass. He also has a speaker made from a 1929 bugle made for the French Drum and Bugle Corps.
"I've got the only one in existence as far as they know," he said.
Also at the festival was Naomi Martnick of Dancing Moon Jewelry. Martnick said this was her first time at the Art & Wine Festival after moving to Sedona last year. Having been in business for four years, she said she's been making jewelry since childhood.
Outside of Sedona, the festival on courthouse plaza was the closest that she's ever shown her jewelry at, Martnick said. Being able to do so, connect with the community and meet people is nice, she said.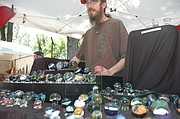 Randy Cribben of FireChild Glass Studio was there as well, selling at the festival for the second time. Though he's been making glass art for eight years, it's been a year since he was able to quit his full-time job and do it with his wife, Cribben said.
"My wife is the one that got me into it … she's the one who actually taught me," he said. "We both fell in love with it."
Cribben said he enjoys when people pick up one of pieces, hold it and think that it doesn't make sense. It warps people's minds, he said.