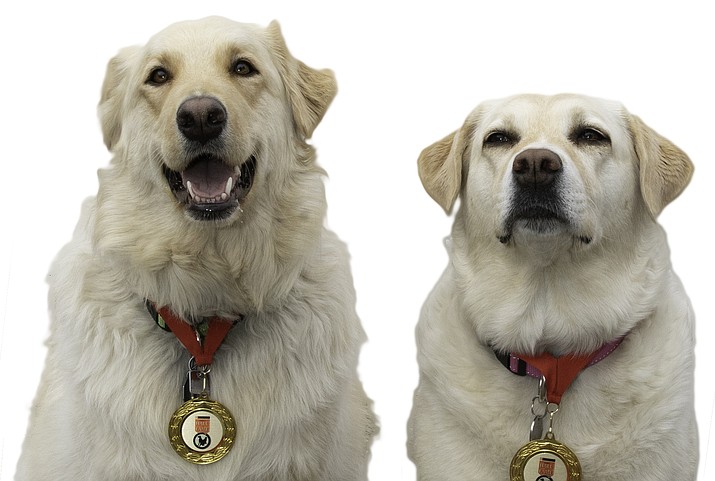 Originally Published: May 15, 2018 6:02 a.m.
TORONTO (Purina Canada via AP) — Animals have the power to continuously amaze us, particularly when it comes to their unique means of communication with humans through various signals and behaviors.
Animals are often capable of understanding humans and, incredibly, many animals can instinctually alert their humans to impending danger. Time and time again, this proves their intelligence, loyalty and connection to those they love.
Purina marks the 50th anniversary of its renowned Purina Animal Hall of Fame by inducting four new heroic hounds who have exemplified these extraordinary qualities. Each of these remarkable dogs has an astonishing story from the day they saved a life.
"Every year we receive countless nominations from Canadians coast-to-coast, sharing the extraordinary stories of animals who have proven to be devoted companions and who have demonstrated unquestionable intelligence and perseverance to save a life," commented Melissa Eckersley, Purina Animal Hall of Fame Ambassador. "Although each and every nomination we receive is truly heartwarming, the four dogs we are inducting for our 50th year really did go above and beyond."
The 2018 Purina Animal Hall of Fame inductees — Sabrina, Arik, Ruth and Lady — were honoured at a prestigious red carpet awards ceremony at Toronto's TIFF Bell Lightbox. In advance of the event, each inductee was surprised in their hometown with the news that they had been selected to receive their medal of honour and a year supply of Purina dog food.
"To celebrate our landmark golden anniversary and pay tribute to all of the remarkable animals who have been inducted over the last fifty years, the ceremony was held at a new venue in the heart of downtown Toronto, with this year's honourees plus former inductee families in attendance," Eckersley continues. "Every year we are inspired by the amazing actions these animals take! Their sheer will, determination and natural instinct to help and rescue others, is truly astounding."
Senior scientist in the Behaviour Group at Purina, Ragen T.S. McGowan believes a dog's loyalty to humans, combined with dogs' extensive communication skills and empathy, can make them excellent problem-solvers in times of need with those to whom they are closely bonded.
"Mounting research in the area of canine cognition has shown that dogs are highly skilled at communicating with humans, learning from their companions and understanding us — perhaps even better than we understand ourselves," said McGowan. "Countless studies support the notion that dogs pay very close attention to the humans in their lives, attend to changes in human attention states and take the perspective of humans into account in order to adjust their own behaviour."
The Purina Animal Hall of Fame is the longest running Canadian pet-recognition program, celebrating outstanding acts of animal heroism since 1968. To date, 179 remarkable animals have been inducted into the program, including 151 dogs, 27 cats, and even a horse. The four dogs joining the ranks in 2018 were rewarded due to their incredible acts of perseverance, intuition and love, which ultimately saved lives.
"Without Ruth and Lady, my husband Matt wouldn't have survived the night of the accident," said Lara Smith, the owner of Ruth and Lady. "They truly are incredible, and because of them, we're still a family with an even more of an unbreakable bond than ever before."
Ruth and Lady are a 2-year-old Akbash/Yellow Labrador/Border Collie cross and a 7-year-old Yellow Labrador/Border Collie cross from the Okanagan Valley, British Columbia.
It was a chilly afternoon in early April 2017 when Matthew Smith hit the road with his dogs, Ruth and Lady, to run a few errands in Kelowna, a town located 45 kilometers from his home.
At around 8 p.m., Smith decided to drive back home. He was 3 kilometers from his house when he lost control of his vehicle while navigating a steep road. He crashed and fell down an embankment.
Although he survived this fall, he was severely injured. Nonetheless, he managed to get himself and his dogs out of the truck despite traumatic injuries, which included head trauma, a lacerated liver and multiple broken ribs, all of which rendered him incapable of getting help. He collapsed. The temperature soon dropped to zero degrees, and recognizing the seriousness of their owner's situation, Ruth and Lady lay on either side of him, to keep him warm and comforted in the freezing conditions.
Hours later, a homeowner living nearby returned from work to find Ruth and Lady barking on his driveway, signaling him to follow them. The man followed the dogs and discovered Smith in critical condition, bleeding where he was lying on the ground.
The man called 911, but even after the emergency services arrived, Ruth and Lady refused to leave their owner's side, showcasing their loyalty and devotion to protect him.
Smith is currently in the process of recovering from the accident, thanks to Ruth and Lady for saving his life. Without their quick-thinking, loyalty and exceptional communication skills, Smith might not have lived to share his story of their heroism.
Sabrina is a 12-year-old Whippet from Saint-Laurent, Quebec.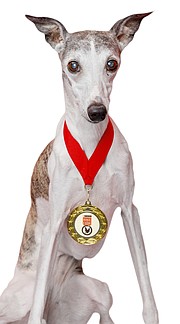 It was 2 a.m. on a dark, September morning when Adele Schwartz awoke to use the bathroom. She, unfortunately, took a wrong turn and tumbled down the basement stairs, hitting her head and instantly falling unconscious.
Schwartz' husband, Bill Schwartz, a deep sleeper, didn't hear a thing until the couple's dog, Sabrina, woke him by causing a commotion, nudging him repeatedly and pulling the comforter off their bed.
Because Sabrina was usually a calm and quiet dog, Bill Schwartz was alarmed by her uncharacteristic behavior.
After realizing that his wife was no longer lying beside him, he got out of bed to investigate what had happened. Sabrina led him to his wife's motionless body at the bottom of the stairs. Frightened and worried, he called an ambulance. Due to the fall, his wife had a fractured vertebra in her neck, a compression fracture in her back and her head had split open, causing a severe concussion that left her unconscious for three days. She stayed 10 days in the hospital and several more months recovering.
Today, she says she owes her life to Sabrina. Had Sabrina not acted so quickly, Adele Schwartz likely wouldn't have survived the fall or she may have suffered permanent brain damage.
Arik is an 8-year-old German Shepherd from Baddeck, Nova Scotia.
On March 3, 2017, Lloyd Stone, an active 90-year-old, was out cross-country skiing, a regular leisure activity that he enjoyed.
Suddenly, he hit some ice and fell on his side, breaking his hip. The injury left him in excruciating pain. The intensity of the pain made it impossible for him to reach the nearby highway, and he started to lose hope as he slipped in and out of consciousness.
Three hours later, at 8 p.m., it was getting dark when Stone's neighbor Calvin Kuchta was driving by and recognized Stone's car on the side of the road. Kuchta had seen it earlier while going to the gym. He thought it was out of character for his neighbor to be out for so long and so late, so Kuchta headed home to collect his dog Arik to help him investigate.
Arik was an accomplished former police dog, so Kuchta knew Arik could help to locate Stone.
Unable to use Arik's leash, Kuchta fastened a skipping rope around Arik's neck to help him track Stone's scent in the woods, and Kuchta and Arik returned to the area where Kuchta had seen Stone's car.
As the duo searched deeper into the bush, they eventually heard a man's voice calling for help. The sound triggered Arik into action. He broke his skipping-rope-fashioned leash and bounded into the woods, where he found Stone, lying on the snow-covered ground.
Kuchta called 911, and Stone was taken to a nearby hospital. Had Arik not been there to help locate the injured man so quickly, Stone might have suffered from hypothermia or possibly have frozen to death.
Heroic stories like the ones shared through the Purina Animal Hall of Fame demonstrate the close-knit bond that exists between people and pets and how animals not only save lives, but can also make a positive difference in our lives every day. In addition to the 2018 official inductees, Purina made two special honorable mentions at the ceremony.
The first was Koby, a 5-year-old German Shepherd, Border Collie and Husky mix from Toronto. Koby was honored along with his owner, Emily Sweet.
After enduring bullying, severe depression and anxiety during her high school years, Sweet rescued Koby, trained him to be her service dog and petitioned to have him join her at school. After much campaigning, Koby was the first self-trained service dog to be allowed into a Canadian school.
Because of Sweet and her dog Koby, the program is now available to millions of students across the country. Previously students were required to go through an official organization, where wait-lists were often years long, with fees up to $20,000.
Koby's support positively changed Sweet's outlook on life, helping her graduate from school, enroll in university and go on to publicly speak about her experiences.
Purina understands the impact that pets can have on mental health and is proud to support the Centre for Addiction and Mental Health and its work exploring the bond between people and animals, including research and pet therapy.
The second honorable mention at the Purina ceremony was a tribute to Smiley, a beloved, blind therapy dog, and Smiley's owner, Joanne George. Smiley was born without eyes and spent his first two years in a puppy mill before being rescued and adopted by George. With more than 200,000 Instagram followers, Smiley, who passed away last year at the age of 16, became famous for his infectious smile and ability to help brighten the lives of others.
As a certified child-therapy dog, he comforted countless hospital patients, children with autism and those living in nursing homes.