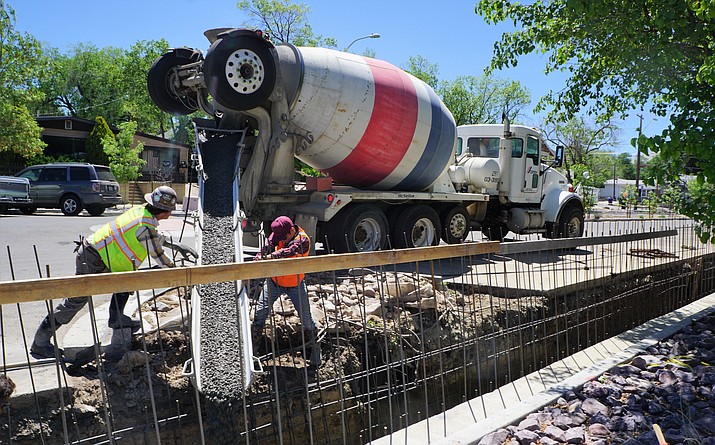 Originally Published: May 14, 2018 6:06 a.m.
If construction crews and detour signs seem to be clogging Prescott streets a bit more than usual this spring, it's not your imagination.
By the second week in May, the city's public works department was overseeing more than a dozen construction projects, with a total price tag of upwards of $20 million – considerably more than in previous years.
The bulk of those projects bring traffic impacts, such as lane and street closures and detours.
And there's more to come.
"It will be the summer of continued road construction," City Manager Michael Lamar said Friday. Along with projects already underway, several major street improvements are set to begin in the coming months.
The ramped up work schedule stems, in part, from earlier direction to the public works department by Lamar and the Prescott City Council to "deliver" more of the street projects that have long been in the works.
In December 2017, the council approved a plan by newly promoted Public Works Director Craig Dotseth to "right-size" the city's planned street projects. That involved redesigning a number of pending street projects to remove aesthetic and underground-drainage features, and to bring down the costs.
Among the goals of the department's new direction was to get more of the long-promised projects done in a timely manner.
Dotseth said Thursday, May 10, that his department is following the council's direction to complete projects that were already designed and funded, but have remained in the construction queue.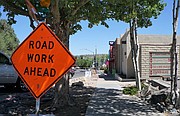 TRAFFIC IMPACTS
For local drivers, that means more street projects than usual will be underway throughout the spring and summer.
"It definitely is increased, as far as the number of projects that are under construction," Dotseth said, adding, "It's definitely heightened this year."
Lamar said he was "glad to see public works trying to deliver these projects."
While he apologized for any inconveniences caused by the street construction, Lamar said many of the projects have long been on the city's priority list, and need to be completed.
Dotseth and city Construction Services Administrator Tim Sherwood outlined about 15 public works projects that are currently under construction.
The bulk of the ongoing projects focus on improvements to streets, intersections, parking lots, and sidewalks, while several others relate to the city's water and sewer systems. In all, contracts for the projects total about $20.8 million.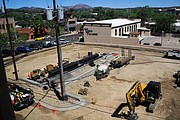 CITY-WIDE CONSTRUCTION
From Schemmer to Alarcon streets, and from Highway 89 to Hassayampa Village Lane, the projects include:
• Highway 89 widening/Phippen roundabout/Constellation Trailhead/water-and-sewer-line work – The $5.1 million project, which got underway in August 2017, is now about two weeks from completion, Sherwood said. He noted, however, that the Arizona Department of Transportation's planned highway widening to the north would begin about the time the city's is ending, which would cause continuing traffic impacts.
• Rosser Street reconstruction – The $2.5 million project has been underway since February, and should be complete by mid-July. The project, which runs through the Eagle Ridge area, has involved regular lane closures. As a part of the reconstruction, one of the traffic calmers in the area was removed.
• Pavement rehabilitation – The annual contract, which totals $1.8 million this year, will affect streets all over town, beginning with this week's resurfacing of Schemmer Drive near the Miller Valley Road U.S. Post Office, and continuing with a section of Willow Creek Road between Willow Lake Road and Mitchell Street.
• Pavement preservation – Another annual contract that touches streets throughout the community comes with a $2.6 million contract this year. It will bring street work to 22 different sites, including Willow Lake Road, Iron Springs Road, Miller Valley Road, and the Prescott Airport. Pavement preservation, which involves application of a treatment to the pavement surface, can extend the life of the pavement by 15 to 20 years, Sherwood said.
• Bashford Courts parking lot and the Willis/Cortez intersection – the $1.6 million project started in March and will run through about mid-June. Along with causing traffic impacts at the corner of Willis and Cortez, the project has also closed down the 43-space parking lot behind the Bashford Courts building in downtown Prescott. The contract includes reconstruction of the parking lot, as well as drainage improvements, and water-line replacement at Willis and Cortez.
• Alarcon Street drainage project – the $429,530 project is redoing drainage that was reconfigured in 2017's reconstruction of the street. Lamar said the original street project involved beautification features that resulted in a reduction in the drainage capabilities of the street. That, in turn, led to flooding in the area during last year's monsoon season. "We have to make sure the street can handle the water flow," Lamar said, noting that the street curbs served as a part of the drainage system.
• Hassayampa Village Lane/Thumb Butte Road intersection – The $251,274 project to improve the intersection is scheduled to begin on Monday, May 14, and be complete within 30 days.
Still to come is an estimated $4.2 million project to reconstruct a portion of Robinson Drive. Dotseth said bids would be opened on May 24, and construction should begin by about June 12.
Along with the major street projects, sidewalk repair and replacement work is also underway all over town.
Other public works projects include valve-replacement work on the Granite Creek dam at Watson Lake, and improvements to city water tanks and pump stations.
Follow Cindy Barks on Twitter @Cindy_Barks. Reach her at 928-445-3333, ext. 2034, or cbarks@prescottaz.com.