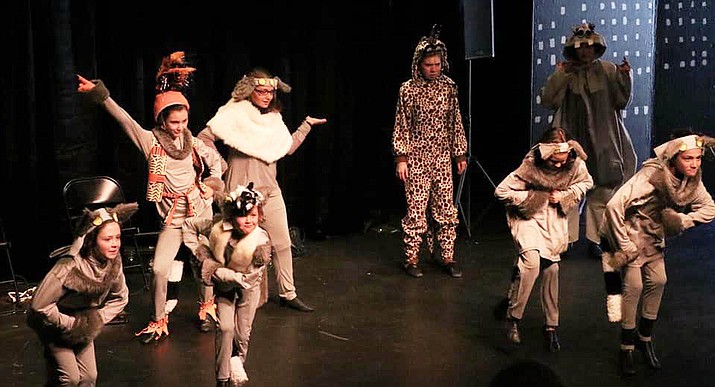 Originally Published: March 30, 2018 6:03 a.m.
Based on the smash hit animated film by DreamWorks, Madagascar – a Musical Adventure Jr. hits the stage April 5 and runs through April 15 at the Prescott Center for the Arts.
Children and adults will enjoy Alex the Lion, Marty the Zebra, Melman the Giraffe, Gloria the Hippo, and of course all the penguins who bring this musical adventure to life.
Tickets are on sale now for $10, plus $2 processing fee, whether child or adult, or evening or matinee performance.
Nancy Dunham, Family Theater assistant director for this production, said about 27 youth ages 7-15 are taking part in Madagascar, with several providing help behind the scenes with lighting and backstage production. The group has been rehearsing since January.
A full cast appears in every production. However, the six lead roles are double-casted, to provide an opportunity for more participation. Dunham said attendees can come to more than one performance to see different lead characters.
The story unfolds with Alex, a lion and king of the urban jungle, as the main attraction at New York's Central Park Zoo. He and his friends have spent their lives in blissful captivity with the admiring public and having all their meals provided for them.
But Marty, the zebra, is a curious sort of animal and makes an escape with the help of local penguins who also want their freedom, and he is off to explore the world.
The three zookeepers, Zelda, Zeke and Zoe, introduce the audience to all the sights and attractions of Central Park Zoo and showcase their real passion for the animals in their care.
Other performers in the cast are Gloria, the maternal-minded hippopotamus; Melman, the hypochondriac giraffe; Mason, the intelligent chimpanzee with a bad rap; the wild lemurs, Lynn, Lew, Lee and Lars, who are prey to cat-like creatures called the Fossa; and the lionesses, back-up singers and dancers.
The PCA Family Theater also offers four school performances for students who pay only $1.
"We are very proud of this program. It introduces them to live theater," Dunham said. "And often, they come out and audition the next year."
The double cast main characters are: Alex the Lion - Sage Navarro, Matthew Haggart; Gloria the Hippo - Norma Steverson, Ashley Davis; Marty the Zebra - Jordan Thomas, Lilli-Claire Nichols; Melman the Giraffe - Cassidy Blake, David Wauters; and King Julian - Tory Daniels, Carlton Haines.
Family Theater also offers a summer youth program for ages 6-10, and Teen Summer Stock for ages 15-22.
The Prescott Center for the Arts is located at 208 N. Marina Street, Prescott. For more information or tickets, call the box office at 928-445-3286 or visit pca-az.net.
By Sue Tone, follow her on Twitter @ToneNotes. Reach her at stone@prescottaz.com or 928-445-3333, ext. 2043.
More like this story