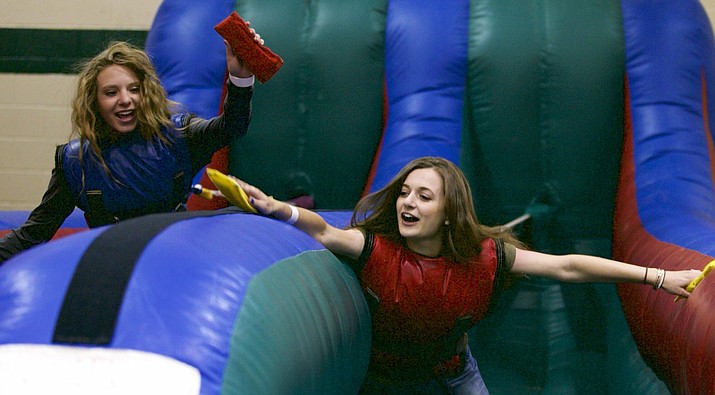 Originally Published: March 21, 2018 5:55 a.m.
Anyone wishing to donate can drop off or mail checks to Prescott High School, 1050 Ruth St., Prescott, Az. 86301. Make checks out to PHS PTSA Grad Night Party. If your business would like to make an in-kind donation, contact JoAnne Chaffeur, 928-499-5361, or jochaffeur@gmail.com
To volunteer, email the event chairperson, Sally O'Neil, at bodabing3@msn.com
Prescott High School's Class of 2018 will be treated to a casino night party hours after they turn the tassels on their Badger blue mortarboards, Friday, May 25.
No. These soon-to-be alumni are not taking a bus trip to Vegas. Nor will they be violating any laws.
While the commencement is set for 7 p.m., these esteemed Prescott youth will gather after, from 9 p.m. to 3 a.m., at The James Family Prescott YMCA on Whipple Street, where parents, business owners and community members have prepared a festive, substance-free send-off for the teens.
The entire YMCA premises will be turned over to some 400 young men and women for a final night with their high school class, where they will play casino games, jump on bouncing floats, earn raffle prizes, eat all the food they can, dance to their favorite tunes, and be entertained by a hypnotist from Vegas.
"I'm anticipating it to be a lot of fun; I'm really looking forward to it," said senior John Chaffeur, whose mother, JoAnne, is one of the organizers of the event aimed at giving all graduates one last chance to gather with all their friends for a safe, fun evening to celebrate their friendships and high school years.
John Chaffeur said he knows it will be a unique "bonding" event, where he and all his friends will get to hang out together and come away with some really cool prizes – like bicycles, microwaves, televisions and other items useful for life in a college dorm room. A computer is the top prize of the night, and all the prizes have been donated for the event.
The Parent Teacher Student Association-sponsored Grad Night is a long tradition in Prescott; this is the 32nd year of the event, which offers graduates a safe place to celebrate this milestone.
For the organizers, including the chairperson, Sally O'Neil -- mother of one of the seniors, Riley -- this is the community's way to bid farewell to the graduates in high style.
"It's an amazing event," said O'Neil, who also chaired the event last year. She added that every penny or gift donated for the event goes to the graduates who attend.
Tickets for their guests are $30 each, but guests are not eligible for prizes.
The annual event costs about $10,000 to host, with another $5,000 or more in in-kind donations, including the purchase or donation of 600 or 700 gifts, organizers said. Every graduate is given $500 worth of Badger bucks and five raffle tickets.
"It's wonderful for our kids," said JoAnne Chauffeur, who has donated to the event over the past eight years. This year, Chauffeur's role is fundraising and handling event check-in for the graduates.
"There's not a lot to do in our town for underage kids, and we don't want anything catastrophic to happen on the night of their graduation," she said.
Graduates can drive to the event, but if they opt to leave before the party ends, they will be escorted to their vehicles and cannot return after they leave.
Planning for the extravaganza begins each year in September and continues through final preparations on the day of graduation. Some of the final volunteer assignments are being made this week.
"It's like planning a wedding," Chaffeur said.
O'Neil said the organizers are appreciative of all donations, whether monetary or product donations, including all the food and snacks for the evening and the time that volunteers are willing to help with set-up or manning the games and other activities throughout the evening. She said she began this year with a loyal team of three volunteers and now has about 20 assisting in all aspects of the event.
No contribution is too small, and all who wish to assist in any way are appreciated, O'Neil and Chauffeur said.
"It's really awesome that the community comes together to help us to give this special event to our seniors," O'Neil said. "We want them to be safe, secure, not a care in the world, and just have a huge blast."
More like this story