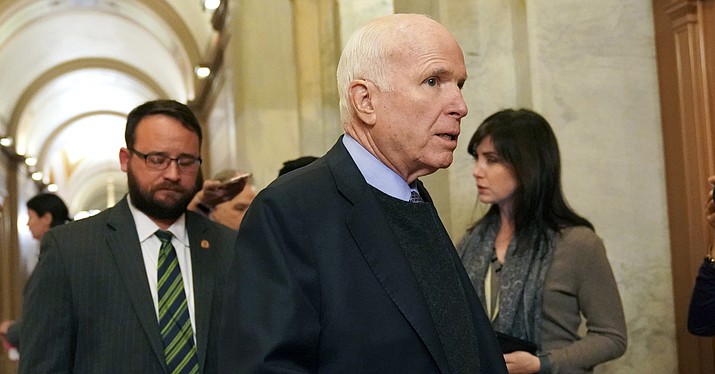 Originally Published: March 20, 2018 6:02 a.m.
WASHINGTON — Sen. John McCain is defending the special counsel investigating Russian election interference after a series of tweets from President Donald Trump revived chatter that the Trump may be preparing to get rid of the veteran prosecutor.
The Arizona Republican wrote on Twitter on Sunday that it is "critical" Robert Mueller be allowed to complete a thorough investigation into Russia's interference in the 2016 election "unimpeded." Trump's tweets revived talk Trump may, in an attempt to end the investigation, move to have Mueller fired. But White House lawyer Ty Cobb sought late Sunday to tamp down the speculation by saying the president is not contemplating such a move.
Life prison term in deadly 2015 drive-by shooting in Phoenix
PHOENIX (AP) — A man has been sentenced to life in prison for a deadly drive-by shooting outside a Phoenix nightclub in 2015. Maricopa County prosecutors say 32-year-old Jeffrey Mathis got a life prison term with the possibility of release after 25 years for first-degree murder.
He also was sentenced to 15 years for attempted first-degree murder, 15 years for drive-by shooting and 11 years for aggravated assault, which will be served concurrent to the life sentence. Phoenix police investigators were able to show through use of his cellphone that Mathis was at the club at time of the October 2015 shooting and witnesses reported seeing him there. They say one man died at a hospital after the shooting and a severely wounded victim identified Mathis as the driver of the vehicle involved.
Arizona DPS trooper slightly injured while making an arrest
PHOENIX (AP) — An Arizona Department of Public Safety trooper has been injured while trying to arrest two suspects in Phoenix.
DPS officials tell KPHO-TV the unidentified trooper suffered a bump on his head and was transported to a hospital for precautionary reasons Monday.
They say the trooper made a traffic stop for a registration issue around 1:30 a.m. and discovered the male passenger had a felony warrant.
DPS says the man later identified as 25-year-old Venancio Arreola Vargas of Mexico has been deported before.
They say Vargas has one handcuff around his wrist but assaulted the officer and the 24-year-old female driver exited the vehicle and jumped on the trooper.
The two suspects fled the scene but were later arrested.
They're facing charges of aggravated assault on an officer and resisting arrest.
Phoenix police ID wheelchair-bound man fatally hit by a car
PHOENIX (AP) — Police have identified a wheelchair-bound man who was struck and killed by a vehicle last week as he tried to cross a Phoenix street.
Phoenix police say the victim was 73-year-old George Hatch.
The say the accident occurred about 7:15 p.m. last Friday at 19th Avenue near Sunnydale Avenue.
Police say Hatch was taken to a hospital, where he was pronounced dead.
The driver remained at the scene to speak with investigators and police say impairment doesn't appear to be a factor.
The name of the driver hasn't been released.
More like this story