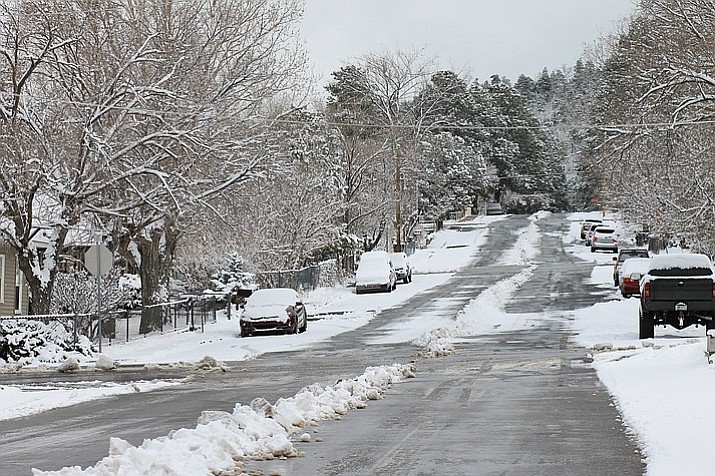 Originally Published: March 12, 2018 4:39 p.m.
WILLIAMS, Ariz. — Arizona Game and Fish Department (AZGFD) is investigating an attack on a dog at a Williams, Arizona south side residence.
According to AZGFD officer Will Lemon, an owner reported his Siberian husky appeared to have been attacked by a mountain lion March 1 in their backyard on East Hancock Ave.
Lemon said AZGFD could not definitively say the attack was a mountain lion and the department was still investigating the incident.
The owner stated he owned several dogs that were in an enclosure and it appeared that an animal had jumped over the fence and mauled his dog.
"There is a plastic gate that was 4 ½ to 5-feet-tall that an animal might have had to jump or get its claws on the very top and pull itself up," Lemon said.
The owner took the 73-pound-dog to the Williams Veterinary Clinic where he was treated for multiple lacerations and bites. The dog was then transferred to Canyon Pet Clinic for surgery. The owner said the dog may need to have a leg amputated.
Lemon said the size of the dog lends to the belief that a mountain lion is involved, but the department was still analyzing the tracks and interviewing the veterinarians involved as the Williams News went to press. Lemon said a large dog could also have caused the injuries.
"We are unable to determine at this time what attacked the dog," said AZGFD Public Information Officer Shelly Shepherd.
Shepherd said the department will be consulting with a mountain lion specialist on the investigation.
The last reported mountain lion attack on an animal in Williams was in December 2016. However, several sightings have been reported.
"We have had three possible mountain lion sightings since November," Lemon said.
Lemon said the department confirmed a mountain lion killed a deer in the Golden Meadows area north of I-40 near Elephant Rocks Golf Course recently.
"Fresh snow had removed all evidence of tracks, but the size of the animal that was taken down makes us lean toward a mountain lion," Lemon said.
Lemon said the department has contacted local guides with mountain lion permits about the recent sightings.
"We believe the lion is most likely living up on High School Hill," Lemon said. "If someone has a mountain lion tag they can go after him if they obey all laws."
Shepherd said the department has been documenting these incidents and said the department pursued a mountain lion last year.
"Unfortunately it didn't work out," she said. "If we can't find the lion, we can't find the lion."
Lemon said AZGFD will not relocate a mountain lion because of its large range and evidence that lions return to their habitat, but the department will take lethal action if the lion has lost its fear of humans.
According to Game and Fish, when people surprise or catch lions off guard they will typically run away. The department said attacks may happen because of movement — if something looks like prey. This could also occur if a lion is protecting its young, is sick or unhealthy or if its habitat conditions are poor.
In these types of cases, Game and Fish said it is typically pets or other domestic animals that are attacked rather than humans.
"Our number one concern is the safety of people," Shepherd said.
Precautions to take
Remove food and water sources. Eliminate places where a lion could hide — trim trees, close sheds, knock down debris or rock piles. Keep pets indoors. Stay with them at night when they are outdoors.
"At night is when this mountain lion is mainly seen, so bring your pets in at night," Lemon said. "If you leave pet food and water out at night that could also attract a mountain lion to your area. Bring that in at night or don't have it out at all during the day."
Have motion lights set up, remove attractants and keep livestock in enclosed areas like a chicken coop or in the barn.
If you encounter a lion, Shepherd said not to run and to make as much noise as possible and make yourself as large as you can. If the animal attacks, she said the best thing to do is to fight back.
Game and Fish said if acting in self-defense you can use lethal force to protect yourself.
Game and Fish said it is helpful to identify a lion by its tracks, which can be preserved with a picture or by placing a coffee or soup can over the track until Game and Fish can respond.
Anyone who sights a mountain lion should contact Game and Fish at (623) 236-7201 or your local police department.
More like this story