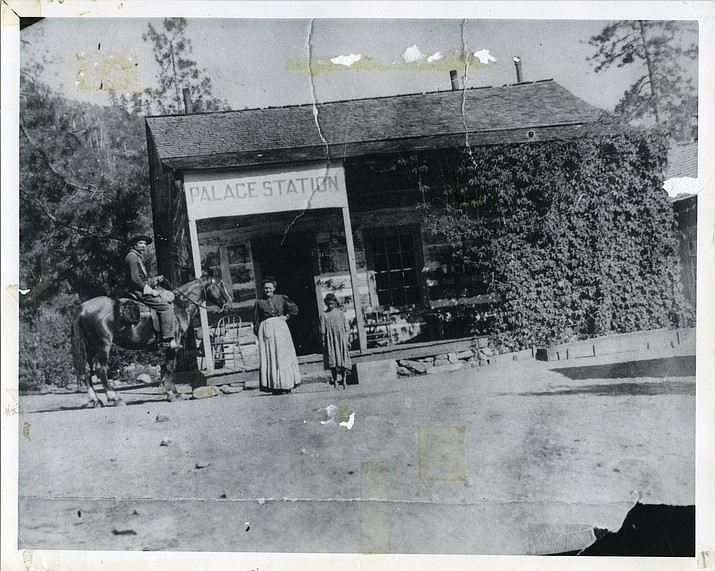 Originally Published: March 11, 2018 6:07 a.m.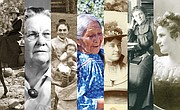 They were the frontier teachers, historians, and artists; they were also the livery operators, stagecoach-stop proprietors, tribal chieftesses, and state senators.
The women who helped build the rough and tumble frontier town of Prescott in the late 1800s and early 1900s obviously didn't put a lot of stock in traditional gender roles.
Time and time again, history shows that Prescott's pioneer women stepped in to get the job done, regardless of whether it was in the classrooms or in the stables.
In some cases, the harsh realities of frontier life foisted the responsibilities on them after the untimely deaths of their husbands. In other cases, the women were on their own.
Either way, Prescott's feisty early women made history. Today, their names are memorialized on buildings, such as Prescott's Grace M. Sparkes Activity Center, and the Sharlot Hall Museum.
Others hold places in history as the first in their roles: Viola Jimulla as the first chieftess of a tribe in the North American West; and Frances Munds, Arizona's first female legislator, and the second woman senator in the U.S.
In recognition of Women's History Month 2018, here are 10 unforgettable women from Prescott's past:
Grace M. Sparkes (1892 to 1963)
Perhaps no other woman – or indeed, no other person – personified the role of "builder" in Prescott as did Sparkes.
Name a 1930s-era bridge, road, or building in Prescott, and Sparkes' name is likely attached.
During a 2002 ceremony to rename the Old Armory on Gurley Street as the Grace M. Sparkes Activity Center, city officials emphasized her role as director of the Works Progress Administration during the Great Depression.
In that capacity, Sparkes reportedly was involved with construction of: the armory building; the stone exhibition building at Sharlot Hall Museum; the Smoki Lodge building; a new hospital at Fort Whipple; the old Prescott High School (now Mile High Middle School); the ball fields and stadium at Ken Lindley Field; and the dam at Willow Lake.
Sparkes was also honored for her sense of humanity. Ernie Jones Sr., the chairman of the Yavapai-Prescott Tribal Council, recalled the assistance from Sparkes and fellow Prescott pioneer Sharlot Hall in establishing the Yavapai-Prescott Reservation. "These people cared," he said during the 2002 ceremony. "If it wasn't for them, we wouldn't be where we are today."
Sharlot Hall (1870 to 1943)
And if not for frontierswoman Sharlot Hall, many of the details of Prescott's late 1800s and early 1900s history likely would be lost.
Hall arrived in the Prescott area (specifically, Orchard Ranch on lower Lynx Creek) in 1882 at the age of 12, and not long afterward, she was writing accounts of the region.
According to Sharlot Hall Museum, Hall sold her first story, the retelling of a Hopi myth, at the age of 20 to a children's magazine, "Wide Awake."
She lived on the Orchard Ranch until 1927, when she negotiated a lease on the Governor's Mansion, where she moved in March 1928, bringing her extensive collection of artifacts and documents.
"Sharlot Hall saw the need to save Arizona's history," states a description of the frontierswoman by the museum that carries her name. "The territory had been founded in 1863 and by 1900, as early settlers died, their possessions were lost, along with their stories."
For the rest of her life, Hall "worked to preserve the old log building and to save Arizona's historic past," the description states. It concludes, "Her diligent efforts inspired others to contribute to the preservation of early Arizona history."
Viola Jimulla (1878 to 1966)
For decades in the early 1900s, Viola Jimulla was a groundbreaker in the community.
Known for her intricate basket weaving, she also took on the role of chieftess of the Yavapai Tribe in 1940 after the death of her husband Sam Jimulla, then the tribal chief. She reportedly was the first woman to take on that role in all of the North American West.
"I had to help my people in whatever they needed," Jimulla said of her time as chieftess. Sharlot Hall Museum remembers her as exhibiting "firm but benevolent rule (that) brought new industry and dignity to the tribe."
In a 2010 dedication ceremony naming Prescott's Meals on Wheel dining room after Jimulla, a number of her descendants described her as a leader who helped pave the way for the tribe.
They recalled that Jimulla lived by a basic credo: "Always think good thoughts as you walk along."
Jimulla went on to serve as tribal chieftess until her death in 1966.
Frances Munds (1866 to 1948)
Munds, who was born in California, earned a teaching degree in Maine, and started her career in the White Mountains of Arizona before moving to Mayer, and later, Jerome.
She married John L. Munds in Cottonwood in 1890, and the couple moved in 1893 to Prescott, where John served as first deputy sheriff to George Ruffner, and then as sheriff from 1898 to 1903.
Frances soon took up the cause of women's right to the vote, and was elected president of the Arizona State Women's Suffrage Organization. She was described as "a woman whose activities embraced every feminist cause in the Territory …"
In 1914 at the age of 48, she was elected State Senator from Yavapai County – the first woman in that role in Arizona, and the second woman senator in the U.S.
"The women were splendidly loyal in the way they supported me," Munds was quoted as saying after her victory. "We believe that we have proved ourselves worthy of the ballot. Woman have been earnest in their endeavors to support the best candidate and to work by the right means for the right measures."
Matilde Spence (1850 to 1929)
She was small of stature, but Matilde Spence was a powerhouse along the 1870s stagecoach route through the Bradshaw Mountains.
Spence moved from Missouri to Arizona in a covered wagon in the early 1870s. Soon after, she and her husband Alfred (A.B.) built Palace Station, a stagecoach stop 14 miles southwest of Groom Creek.
"The station served the needs of the miners, ranchers and travelers," states an account from Sharlot Hall Museum. "Here many a meal was prepared for weary travelers on the Prescott-to-Phoenix stage route, and the horses were also watered and rested."
Much of that work reportedly fell to Matilde. Ray Jackson, a former history and English teacher who spent years researching the Palace Station, said Matilde frequently stepped in as proprietor while her husband was out prospecting for precious metals in the Bradshaw Mountains.
"I think the real person behind the Palace was Matilde," Jackson said. "She was the glue that held everything together."
Along the way, Matilde also raised eight children, home-schooling them in the two-room log cabin that was Palace Station.
Isabelle Shull Forest (1864 to 1934)
Tragedy struck the young Shull family in 1899, when John (Jack) Shull suffered serious injuries in a horse-and-buggy accident on a mountain road near Senator.
Shull would later die in his family home on Cortez Street, leaving behind his 35-year-old wife Isabelle, five children, and a livery business saddled with outstanding debts.
Jack's untimely death led Isabelle and her two oldest sons to run the family's livery stables for a time. But, hampered by the loans Jack had extended to customers through the years, they sold the business in 1902.
Still, Isabelle persevered. A Sharlot Hall Museum account notes that she was "a remarkable cook and housekeeper." It adds: "Many a lonely man from the mining camps ate at her table or was nursed through sickness by her capable hands."
Isabelle also ran a cooking school where she trained Chinese boys to be cooks for the mining camps, according to the account.
Isabelle remarried in 1894 to J.C. Forest, a Prescott lawyer. Furniture from her home is on display in the Fremont House of the Sharlot Hall Museum.
Pauline O'Neill (1863 to 1961)
Married to the iconic Prescott newspaper editor, sheriff, and Rough Rider Buckey O'Neill, Pauline Schinder O'Neill made a name for herself as well – working as a schoolteacher, and serving in leadership roles in the Arizona Territorial Women's Suffrage Association, as well as in the Arizona Legislature.
"She helped Arizona women earn the right to vote, four years before the 19th Amendment was enacted by Congress," states a Sharlot Hall Museum account. "Her first political office was an appointment to the Yavapai County Board of Examiners."
She later was elected to the Arizona Legislature from Maricopa County and served from 1918 to 1921. While there, she sponsored a bill that purchased the old Governor's Mansion in Prescott, paving the way for Sharlot Hall's dream of a museum 10 years later.
Christine Johnson (birth date unknown to 1900)
After arriving in Prescott in 1878, Johnson quickly became part of a male-dominated business scene – initially running the Central Restaurant, and then building a boarding house, the Johnson House.
Her obituary in 1900 states that she "had been in the hotel and restaurant business for over 20 years, and was a hard-working and frugal woman."
Kate Cory (1861 to 1958)
Sharlot Hall Museum refers to Cory as "a pioneer in more than one sense of the word."
At the age of 44, Cory traveled to the Hopi mesas of northern Arizona, hoping to develop an artist colony there. "When no one else joined her, she remained … and was able to capture their culture in photographs and on canvas," the account states.
One of the West's most famous artists, Cory called Prescott home, and continued her art in her stone house on Thumb Butte Road.
Dora Heap (1906 to 1984)
A Prescott schoolteacher in the 1920s, Dora Rosenblatt married Joe Heap in 1929 and went on to a leadership role in the Republican Women of Yavapai County, as well as an active role in Barry Goldwater's 1964 presidential campaign. From 1965 until her retirement in 1972, Dora served as director of Sharlot Hall Museum.
More like this story