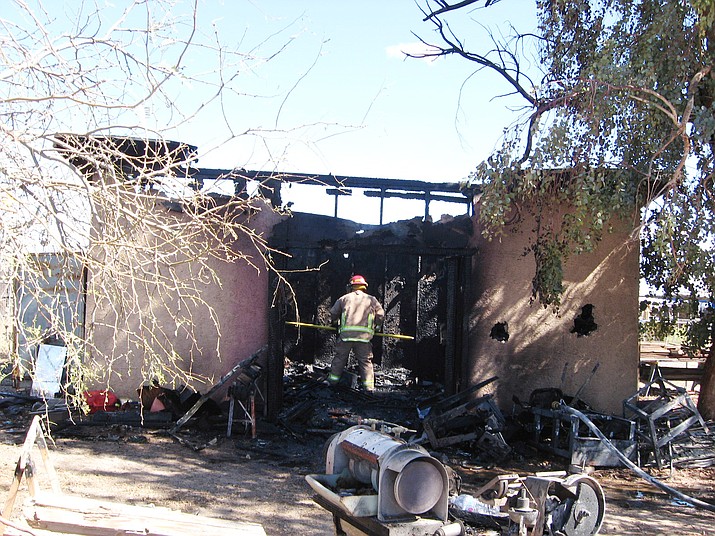 Originally Published: March 7, 2018 6:01 a.m.
A resident of Congress using a scroll saw inside a shed caused a fire that ended with the total loss of the shed on Sunday, March 4. Congress fire crews knocked down the shed fire on the property at the 22800 block of Adams Lane, but the roof collapsed, said Yavapai County Sheriff's Office Media Coordinator Dwight D'Evelyn in a March 6 press release.
The resident said he was using a scroll saw early Sunday afternoon when the pump on the engine caught fire.
"He did not have enough garden hose to reach the shed as the fire quickly spread to a wall," D'Evelyn reported.
Also occurring on March 4, an attic fire in an unoccupied home in the 4800 block of Diamond Drive in Prescott damaged the home. Fire personnel removed insulation from the attic and had the fire under control when YSCO deputies arrived about 9:30 a.m.
Initial indications are that wiring to a new swamp cooler may have been at fault, D'Evelyn stated.
A third fire destroyed an SUV and a singlewide mobile home on Conwaden Road in a remote section of Juniper Woods. Deputies received reports of a possible structure fire and gunshots, and eventually arrived at the still smoldering residence around 7:30 a.m. after spotting smoke. They found no one on the property.
Eventually, deputies contacted the owners who confirmed they had been out of town since Friday. Based on interviews with the residents, property owner, and neighbors, along with the initial investigation, D'Evelyn said they found no evidence of foul play.
Ash Fork fire personnel arrived to make sure the fire was extinguished and noted that the propane tank was hooked up to the home and turned on.
D'Evelyn said the gunshot sounds may have been caused by exploding tires and/or ammunition stored in the home.
"It is possible the fire started several hours earlier during darkness and was not noticed until daybreak when gunshot sounds were heard and smoke was seen," he said.
An investigation is ongoing.
More like this story