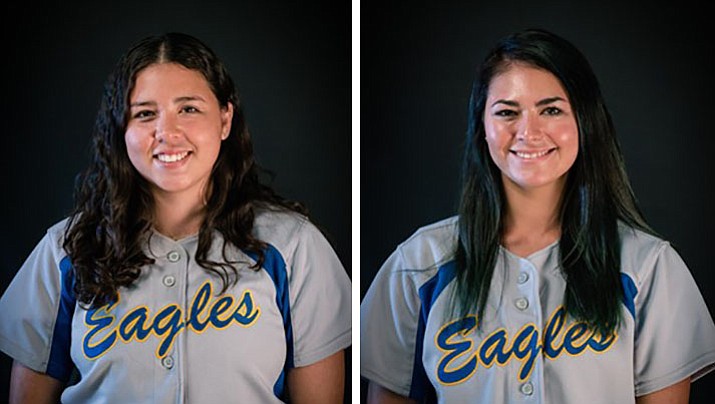 Originally Published: March 7, 2018 11:32 p.m.
Hatcher-Taylor's walk-off homer in Game 1 lifts Eagles
PRESCOTT — Embry-Riddle softball senior right fielder Daisy Hatcher-Taylor hadn't hit a walk-off homer in her playing career until Wednesday, and how sweet it was for an Eagles team playing for an interim coach in 2018.
Hatcher-Taylor of Bakersfield, California, snapped a 4-4 tie versus St. Katherine by drilling a solo homer with no outs in the seventh inning, carrying host Embry-Riddle to a 5-4 victory in Game 1 of a non-conference doubleheader on the Eagles' campus field in Prescott.
"It feels awesome, because I've been playing for a long time and I've never had that before," a giggling Hatcher-Taylor said afterward. "I just wanted to get on [base] for my team, but that works, too."
Embry-Riddle interim coach Jaime Long called Hatcher-Taylor "an extremely strong hitter" who transferred from Arizona Western College in Yuma and redshirted in 2017 after undergoing ACL knee surgery.
"It's been great to have her – she can slap, she can hit for power, she can run," Long said. "She's been a very solid player. She's got a great arm in the outfield."
In the nightcap, ERAU completed the sweep of St. Katherine of San Marcos, California, notching a 9-8 win in eight innings to improve its record to 12-6 overall. Embry-Riddle has won six straight. The Firebirds dipped to 6-19.
The Eagles were preparing for their Cal-Pac Conference-opening doubleheader Friday at La Sierra in California, while St. Katherine had hoped to tally at least one win here after losing 12 straight. The Firebirds, however, garnered two victories Tuesday when Benedictine-Mesa forfeited a twin-bill.
In the seventh inning of Game 1, Hatcher-Taylor smoked a 3-1 pitch from senior reliever Briana Jordahl to lead off, and Hatcher-Taylor's teammates congregated at home plate to congratulate her on the game-winning dinger. Eagles sophomore reliever Carly Carlsen picked up the win in 3-1/3 solid innings, with Jordahl absorbing the tough loss.
Embry-Riddle led 1-0 on an RBI single from Hannah DeLuna in the first inning, but St. Katherine tied it on a run-scoring single from Sabrina Gonzales in the third.
In the fourth, the Firebirds nearly batted around, plating three runs to grab a 4-1 advantage. Eagles starting pitcher Lani Kaleikini walked a pair to open the frame and forced two quick outs before surrendering a two-run double to St. Katherine catcher Mallory Mitchiner and an RBI single to leadoff hitter Kyla Jones.
Carlsen then relieved Kaleikini and dominated. She surrendered three hits, but didn't allow any runs from the end of the fourth inning through the seventh frame. Carlsen notched five strikeouts, including three straight to retire the side in the sixth, and issued one walk. She forced two groundouts and a lineout in the seventh.
"It definitely gave us momentum, and her getting [all of those strikeouts] in a row we definitely got pumped up and used that," Hatcher-Taylor said of Carlsen's performance.
At the dish, ERAU tallied eight hits. In addition to Hatcher-Taylor's bomb, DeLuna went 2 for 3 with two singles, Haley Basye had a two-run single and leadoff hitter Bailey Critchlow was 2 for 4 with a triple. For St. Katherine, Hanna Mehok led the way, going 4 for 4 with two doubles.
Embry-Riddle, a NAIA program, finished the 2017 season with a 17-37 overall record – the most wins in a campaign since the team's formation in 2014. So, can the Eagles blaze a fresh path forward in 2018?
"I would say we're a completely different team from last year," Hatcher-Taylor said. "We just have a whole new mindset going into the games from last year, and that's really what's been helping us this year."
LONG RETURNS TO DUGOUT
Long, Embry-Riddle's athletic director, took over as interim softball coach for Marie Thomason, whom Long said is on medical leave for the 2018 season.
"I'm just trying to stay out of their way and not make a lot of changes, and just be supportive and try to steer us towards a common goal of winning," Long said. "We're excited. This is the strongest start that we've had in the history of the program."
Long's no stranger to the game. She grew up in the Phoenix area and played two years of junior college ball (one at Scottsdale CC and one at South Mountain CC) and two years of NCAA Division I ball at Bethune-Cookman in Daytona Beach, Florida.
She was later an assistant coach at Bethune-Cookman for two years before moving on to coach Gateway Community College's softball program for 10 seasons. Long relocated to Prescott to become ERAU's interim athletic director and subsequently replaced Ted Blake as AD.
"Jaime has a really good background, and she's really helped the pitchers a lot," Carlsen said. "She's made me better just within the past couple months, in getting spins down and learning how to throw to a batter."
Blake and former Flagstaff High School coach Rudy Baca, two longtime veteran coaches in Arizona, and Dale Scott serve as Long's assistant coaches.
"We joke around when I say we have about 80 years' experience between the four of us," Long said, laughing. "It's probably the most seasoned coaching staff in the country."
Long added that she's "very confident" in her 2018 squad, which has "a lot of talent."
"We're just getting a little bit better every game," Long added. "Once we put it all together and play a little bit cleaner D and continue to pitch well and continue to hit well, we'll sit pretty well in the [Cal-Pac] conference."
UP NEXT
Embry-Riddle visits La Sierra (7-12-1) for a Cal-Pac twin-bill at 3 and 5 p.m. Friday in Riverside, California.
St. Katherine, a member of the National Christian College Athletic Association (NCCAA), travels to Hope International University for a doubleheader Friday, March 16, in Fullerton, California.
Doug Cook is a sports reporter for The Daily Courier. Follow him on Twitter at @dougout_dc. Email him at dcook@prescottaz.com or call 928-445-3333, ext. 2039.
More like this story