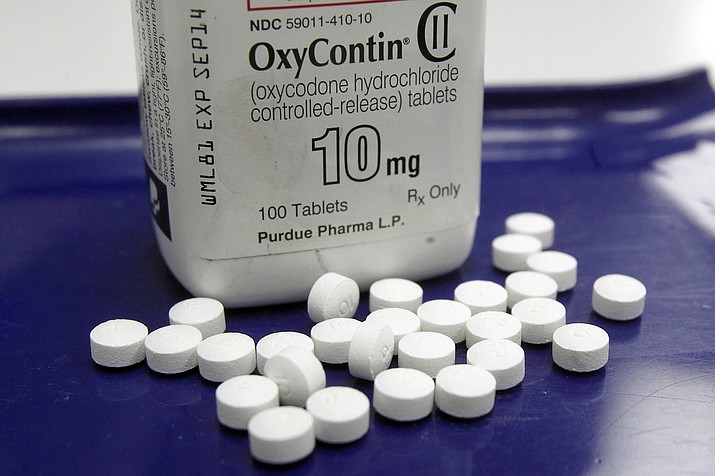 Originally Published: March 7, 2018 6 a.m.
Arizona is launching one of the country's first real-time, comprehensive opioid hotline for healthcare providers, Gov. Dough Ducey's office announced Tuesday, March 5.
The Arizona Department of Health Services (ADHS) and Arizona's Poison and Drug Information Centers are teaming up to launch a hotline for medical providers who treat patients with pain and opioid-use disorder, according to a statement from the governor's office.
The Arizona Opioid Assistance and Referral Line will be a free, 24/7 hotline, operated by medical experts at the Arizona's Poison and Drug Information Centers. The hotline is expected to launch this month, according to the statement from the governor's office, and the hotline will soon be available for patients seeking treatment for opioid-use disorder, according to the statement.
"This one-of-a-kind resource will connect Arizona healthcare providers with subject-matter experts at Arizona's Poison Control Centers to provide them with free, real-time, reliable information and resources to support patient management," said Dr. Dan Brooks, medical director for the Banner Poison and Drug Information Centers. "We're thrilled to make available our network of clinical experts to assist Arizona clinicians treating patients with acute and chronic pain, acute opioid complications, or opioid withdrawal, and provide patient-specific consultation in real-time"
ADHS and Arizona's Poison and Drug Information Centers are developing a new protocol for the hotline that includes specific, opioid-related information for providers including: safe prescribing limits for opioid-naïve patients, identification of potentially dangerous drug combinations, and chronic pain treatment options. The hotline can also be used to give providers information on caring for patients who are suffering from opioid-use disorder.
"Preventing opioid overdoses and deaths in our state needs a multifaceted approach, and the new hotline is a major step forward as it will give medical providers immediate access to experts who can help to ensure safe prescribing and to identify treatment options for patients, which may or may not include opioids," said Dr. Cara Christ, director of ADHS. "No two patients are the same and treatments vary based on individual needs, so we need to make sure we are providing tailored resources to our medical community."
The hotline was a recommendation in ADHS' "Opioid Action Plan" and is one of several initiatives to support Arizona prescribers and healthcare providers managing patients with chronic pain.
The hotline will have a dedicated phone number, separate from the national Poison and Drug Information Centers' 800 number, and the number will be sent to medical providers through the Health Alert Network when the new hotline becomes active. Healthcare providers can sign up for the Health Alert Network online.
The opioid hotline is one of the programs developed in Arizona since Ducey last year declared the abuse of opioids a statewide, public-health emergency.
More like this story