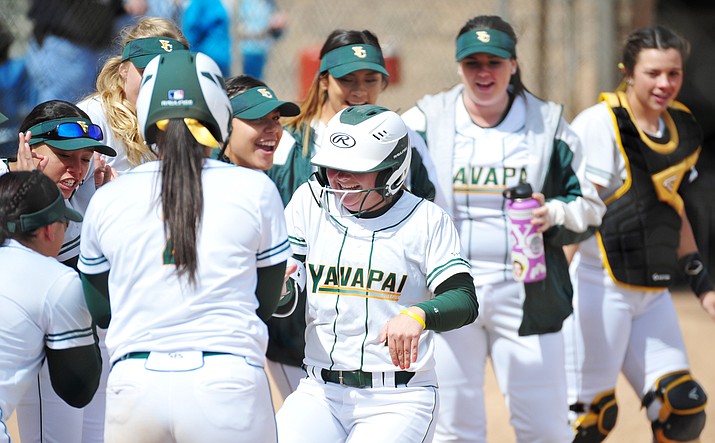 Originally Published: March 6, 2018 11:22 p.m.
Photo Gallery
YC vs Scottsdale softball 030618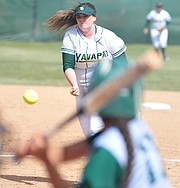 Boursaw is new Yavapai career home-run queen
PRESCOTT — When ACCAC frontrunner and NJCAA Division I No. 5-ranked Eastern Arizona College visits the No. 16 Yavapai College softball team for a league doubleheader Saturday, the series should help determine which squad has the inside edge to win the conference.
On Tuesday at Bill Vallely Field in Prescott, the second-place Roughriders could've been accused of looking ahead to the weekend after posting a not-so-convincing 5-0 victory over struggling Scottsdale Community College in Game 1 of their twin-bill.
However, in Game 2, defending ACCAC regular-season champion Yavapai won its fourth straight in convincing fashion, drubbing the D-II Artichokes, 24-0, in a run-ruled five innings to keep pace with Eastern Arizona. It was the largest margin of victory and the most runs scored in a game for the Roughriders this season.
Yavapai upped its record to 21-6 overall, 15-3 in conference to stay directly behind the Gila Monsters, who improved to 25-4, 18-2 by sweeping South Mountain CC, 10-2 and 8-0, Tuesday. Scottsdale, on a six-game slide, is 4-18, 3-17.
To this point, Eastern, which has won nine in a row, has played two more ACCAC games than Yavapai because snow postponed the Roughriders' scheduled home doubleheader versus Gateway CC on Feb. 27. Yavapai, which will play 22 of its final 32 regular-season games at Vallely Field, hosts Gateway Thursday, March 15.
"That's going to help us a lot [being at home], because the traveling has been wearing us down a lot," said Yavapai sophomore designated player/catcher Jaydee Boursaw, whose team is 11-3 on the road. "For the freshmen, it's been really tough."
The Roughriders are seeking revenge against Eastern Arizona, which eliminated them in the NJCAA Region I playoffs last year in Prescott and denied them a second consecutive trip to the NJCAA National Tournament. With a sweep, Yavapai would have a leg up atop the ACCAC standings.
"Eastern's going to be our best competition," Yavapai freshman shortstop Brianna Griffiths said. "We need to come out ready to play, be mentally engaged and excited in the dugout for every little play that we get."
Gila Monsters starting pitchers Kendall Rauk and Pania Monk led the conference in ERA with a 1.10 and 0.97, respectively, heading into this week. Like Yavapai, Eastern Arizona also has a potent offense. The Gila Monsters had scored a league-best 263 runs, while allowing a league-low 65 runs, going into Tuesday.
"We have a lot of – I wouldn't say bad blood – but we have a lot of intensity coming up against Eastern," Boursaw said. "For our sophomores, they are our No. 1 target. They've been doing really well this season."
HR RECORD
Boursaw set a new Roughriders softball career record for home runs by launching her 40th dinger in a 6-0 victory March 3 at Chandler-Gilbert CC. Former Roughrider Andrea Sotelo, who finished her career with 39 homers in 2017, held the record previously.
"It's absolutely amazing," a modest Boursaw said of her achievement. "I definitely was struggling for a little bit because I was thinking about it. Following up with 'Dre's record, that was huge."
On Tuesday, Boursaw blistered two homers in Game 2 to raise her conference-leading season total to 10 and her career tally to 42. She finished the day 4 for 6, which included a double, six RBIs and four runs scored.
"I've never really seen anything like it on the offensive side, and I've been coaching a long time," fourth-year Yavapai coach Doug Eastman said of Boursaw. "When you consider she's already broken the [HR] record with 32 games to go, it's incredible. She's a rare talent, and she's got a great future ahead of her."

Boursaw is currently hitting .444 (36 for 81) with six doubles, a team-best 36 RBIs and 26 runs scored.
Before Tuesday's games, Yavapai athletic director Brad Clifford recognized Boursaw by presenting her with her HR record-breaking softball. And yet Boursaw's not the only long-ball threat in the Roughriders' lineup.
Griffiths of Tucson, who has ripped nine homers this season in the No. 2 hole, has taken some pressure off of Boursaw.Griffiths said she wasn't a home-run hitter in high school.
"I'm honestly surprised right now," added Griffiths, who had a solo shot in Game 1. "But I've worked with coach Eastman so much, and it's been so fun to see my swing grow and just develop to be able to hit the ball a long ways instead of bunting like I usually do."
ALLEN SPARKLING
Jaya Allen, a freshman pitcher from Spokane, Washington, whose record improved to 9-3 Tuesday, entered the afternoon with a 2.67 ERA and 10.02 strikeouts per seven innings. Versus Scottsdale in Game 1, Jaya (pronounced JAY-uh) pitched a one-hit shutout and registered 12 strikeouts for her seventh complete game.
"At the beginning of the season I definitely felt like I got tired throughout the game," Allen said. "But my stamina and endurance is getting better as I'm going, and I'm just throwing hard throughout the whole game now. The energy in the dugout helps, too."
Allen earned ACCAC Softball Player of the Week honors Feb. 19.
"Jaya's got all the confidence in the world, and that's where it starts," Eastman said. "You've got to be confident up top, in the head, and she's been like that from pitch No. 1. But her location is just so much better now than it was early in the season. And she's got that devastating rise ball, and she's got that curveball that she can go with on the outside corner."
Allen has done a yeoman's job complementing Yavapai sophomore hurler Kiana Spencer, who won Game 2 on Tuesday and owns an 8-3 record.
"Jaya's doing really well," said Boursaw, who catches only for Spencer. "She's gotten herself into a couple of little holes, but she's able to relax on the mound and pull herself out of little holes she gets into occasionally."
UP NEXT
Yavapai continues its season-long 10-game home stand with a doubleheader at noon and 2 p.m. Saturday versus Eastern Arizona.
Scottsdale plays host to South Mountain (6-19, 4-16) for a twin-bill starting at 5 p.m. Saturday.
Doug Cook is a sports reporter for The Daily Courier. Follow him on Twitter at @dougout_dc. Email him at dcook@prescottaz.com or call 928-445-3333, ext. 2039.
More like this story