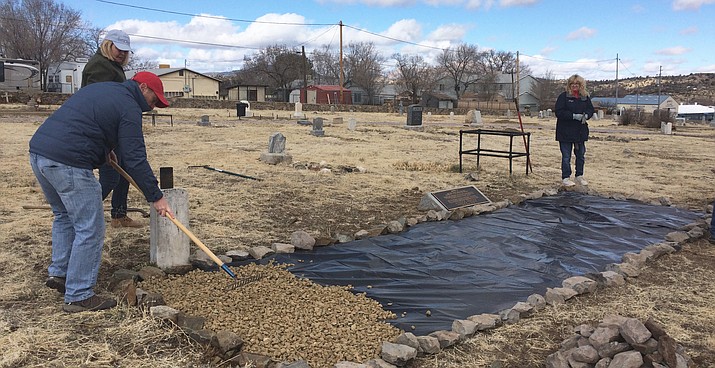 Originally Published: March 6, 2018 6:06 a.m.
The grim reaper visited Citizens Cemetery and struck down a volunteer preservation association operating since 1995.
The Yavapai Cemetery Association will not be renewing its contract with Yavapai County, which ends June 30.
Citizen's Cemetery has benefited from the YCA for 22 years with repairs, improvements and construction within the stone wall boundary erected by the Works Progress Administration (WPA) in 1934. YCA volunteers have repaired the walls, provided trash bins, installed fencing, and restored deteriorating and broken headstones and monuments. They also provided some landscaping and maintenance work.
Pat Atchinson, YCA founder, and 100 dedicated members over the years have worked with the county in accordance with historic preservation guidelines and requirements. Like many organizations made up of volunteers, however, the core group has grown older and changes in life circumstances mean fewer are available to continue the work.
"We decided, since we have completed a lot of major restoration projects that we set out to do from the beginning, we've pretty much accomplished that," said Julie Holst, YCA chairperson.
Holst notified the Yavapai County Board of Supervisors at the Feb. 7 meeting that YCA would no longer be involved when its contract expires June 30. The Facilities Department will continue its maintenance of the cemetery.
Facilities Director Kenny Van Keuren said the county will take over the Memorial Day celebration after this year, but would not conduct fundraisers such as the Halloween event. He said he realizes how difficult it must be for YCA to turn over all the information the members have gathered, as Citizens Cemetery was "their pride and joy."
In use from 1864 until 1933, the 6.5-acre Citizens Cemetery contains about 3,400 burials, of which 934 have markers. At least 85 veterans have been identified, including William Zadoc (Zed) Wilson, 1847-1887, a soldier of the Civil War who died near Prescott at age 40.
1887 EXPLOSION
Wilson owned a sawmill on Lynx Creek about nine miles from Prescott.
"Apparently it was steam-powered, and a boiler blew up and killed six men," said Bob Bakken, YCA grounds manager.
Bakken and Matt Petsche were out on a chilly Sunday morning, March 4, preparing the ground next to Wilson's marked grave, expanding the boundary to include four other men killed in the tragedy.
The sixth man, John B. Akers, 38, is buried in the Masonic Cemetery.
The new bronze marker lists the men, Wilson, Akers, Charles F. Collins, 31, Thomas Cowley, 30, Andy Steinbrook, 19, and C.V. Taylor, age unknown. It reads, "On November 23, 1887, a boiler explosion at 'Zed' Wilson's sawmill on Lynx Creek about nine miles from Prescott killed six men.
Newspaper reports about the 'fearful catastrophe' state that the 'men who so fearfully lost their lives were popularly known and respected in this community, and the terrible tragedy has cast a sad gloom over the entire neighborhood.'"
"The whole cemetery is full of tragedy like that, young people killed in accidents," Bakken said. He described one death of a man buried nearby who leaned out of a train near the former depot at Sheldon and Cortez streets to wave goodbye, and a train passing in the other direction tore off his arm. The man bled to death.
Wilson's marble headstone is rounded on top indicating he fought as a Union soldier in the Civil War. Scattered throughout the cemetery are marble headstones with a slight peak at the top which designate Civil War soldiers who fought on the Confederate side.
Members of The Rotary Club of Prescott also have been active in restoration projects, including Sunday's sawmill plot, as well as several Boy Scouts working on their Eagle Scout projects. Holst said these groups may continue working with the county Facilities Department as the next fiscal year begins July 1.
RESEARCH
Local historian and YCA member Judy Branson researches graveyards. Holst said a lot of information on one person may be the result of research on another.
"We come across something else interesting. With newspaper articles and family trees, you make the connection," she said. "We cross reference with family records, death records and the map. It just comes together."
The map is an original linen map that county employees added to over the years, marking and writing in names by hand based on death records. It took a lot of deciphering, Holst said, and much of it was illegible. YCA updated the map and took it to Otwell Architects who put it into digital format. The map has been reproduced on the back of the sign posted inside the cemetery, and for now, YCA sells copies for $10.
In the northeast portion of the cemetery are several headstones of Chinese burials. Holst said, traditionally, when the Chinese left the area, they often would disinter family members and take with them back to China.
FUTURE OF CEMETERY
Between now and the end of June, YCA volunteers will finish some additional projects such as restoring a family plot with curbing and headstone that is sinking into the ground, and working with Arizona Public Service to install solar lights for flying the flag.
"We are very proud of the work we've done in there. We have a core group that stuck with it. Nancy Burgess was a major contributor with her background and knowledge in historical preservation to keep things historically accurate," Holst said.
YCA will host the Memorial Day celebration May 28 one more time, "because it's a pretty traditional ceremony that began in 1910," Holst said. "The county will take it over for sure. They are interested in the cemetery and on board with making sure it is maintained and preserved. We feel very confident that they will."
The Yavapai Cemetery Association meets at 9 a.m. on the second Wednesday of the month at Prescott City Hall, 201 S. Cortez Street, Prescott. For more information, call Julie Holst at 928-713-8807 or email ycacitizens@gmail.com.
Follow Sue Tone on Twitter @ToneNotes. Reach her at stone@prescottaz.com or 928-445-3333, ext. 2043.
More like this story