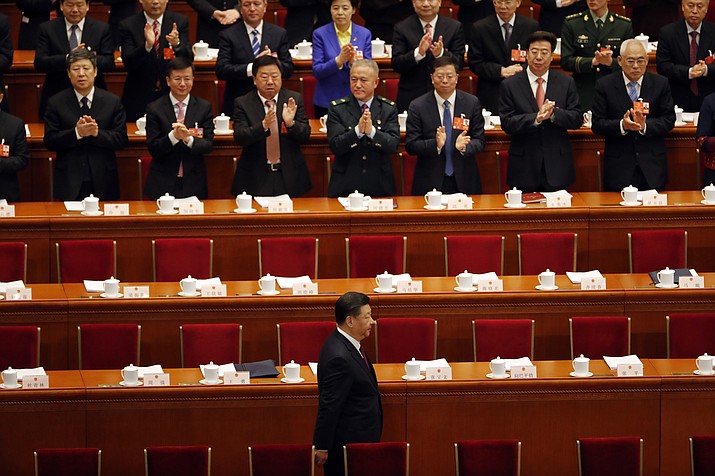 Originally Published: March 5, 2018 6:03 a.m.
BEIJING — President Xi Jinping is poised to make a historic power grab as China's legislators gather Monday to approve changes that will let him rule indefinitely and undo decades of efforts to prevent a return to crushing dictatorship.
This year's gathering of the ceremonial National People's Congress has been overshadowed by Xi's surprise move — announced just a week ago — to end constitutional two-term limits on the presidency. The changes would allow Xi, already China's most powerful leader in decades, to extend his rule over the world's second largest economy possibly for life.
"This is a critical moment in China's history," said Cheng Li, an expert on elite China politics at the Brookings Institution in Washington.
The move is widely seen as the culmination of the 64-year-old Xi's efforts since being appointed leader of the ruling Communist Party in 2012 to concentrate power in his own hands and defy norms of collective leadership established over the past two decades. Xi has appointed himself to head bodies that oversee national security, finance, economic reform and other major initiatives, effectively sidelining the party's No. 2 figure, Premier Li Keqiang.
Once passed, the constitutional amendment would upend a system enacted by former Chinese leader Deng Xiaoping in 1982 to prevent a return to the bloody excesses of a lifelong dictatorship typified by Mao Zedong's chaotic 1966-1976 Cultural Revolution.
West Virginia teachers: No raise? No school; strike goes on
Unions representing West Virginia teachers and service personnel say they will stay out on strike after the state Senate voted to cut the 5 percent pay raise they had negotiated with Gov. Jim Justice.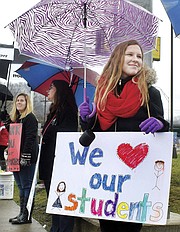 In a joint statement Saturday, the American Federation of Teachers-West Virginia, West Virginia Education Association and the School Service Personnel Association said Senate President Mitch Carmichael and his leadership team had left them with no choice after they voted to reduce the raise to 4 percent.
The statement said all public schools in West Virginia would be closed again Monday "and remain closed until the Senate honors the agreement that was made."
The Republican-controlled Senate voted Saturday evening to approve the lower pay raise, bucking teachers, Republican Gov. Jim Justice and the Republican-controlled House, which approved the 5 percent raise on Wednesday. The two bills will now have to be reconciled. It was unclear how soon that process would begin.
The Senate's vote came as the teachers' strike rolled into its second weekend. Republican Sen. Greg Boso of Nicholas introduced the amendment to lower the raise, which the full Senate adopted by a vote of 19-15.
Trump puts aside the feud with media for a night at Gridiron
WASHINGTON — President Donald Trump engaged in a good-natured duel of one-liners with political rivals and the press at the annual Gridiron Dinner this weekend, largely putting aside his ongoing criticism of the media for a night.
Trump dished out sharp one-liners throughout his comments Saturday night, occasionally lapsing into recurring themes about the 2016 election and media bias.
"Nobody does self-deprecating humor better than I do. It's not even close," said Trump, who skipped last year's dinner. He also said: "I was very excited to receive this invitation and ruin your evening in person. That's why I accepted."
The annual dinner of the Gridiron Club and Foundation, now in its 133rd year, traced its history to 1885, the year President Grover Cleveland refused to attend. Every president since has come to at least one Gridiron.
More like this story