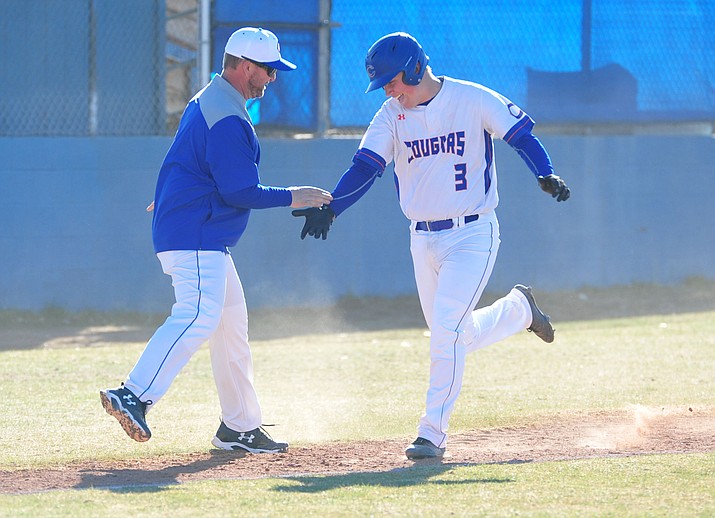 Originally Published: March 5, 2018 10:59 p.m.
Updated as of Monday, March 5, 2018 11:58 PM
Photo Gallery
CVHS vs Camp Verde Baseball 030518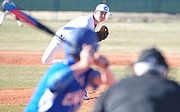 EDITOR'S NOTE: This story has been updated from an earlier version.
Ben Grandy's grand slam sparks 10-run first inning in Cougars rout
CHINO VALLEY — Ben Grandy's grand slam in the bottom of the first inning sparked a 10-run rally rival Camp Verde was unable to recover from in a 20-8 win for the Chino Valley baseball team on Monday afternoon.
The senior finished his afternoon with a 1 for 4 at the plate, but his first-inning slam made it 4-0 to propel the Cougars to their second straight victory.
"I'll take 1 for 4 every day if it means a big hit like that," Chino Valley skipper Mark Middleton said after the game Monday.
Chino Valley (2-1, 0-0 3A West) added three runs in the second and seven more in the fourth to run-rule the Cowboys.
Tyler Hixon toed the mound for Chino Valley and struggled, allowing four earned runs on three hits while walking four in just two innings pitched before Middleton pulled him.
Hixon made up for it at the plate, however, going 3 for 4 with two home runs, a double and five RBIs.
"We didn't pitch particularly well, and the defense didn't play great behind him," Middleton said. "Some of it was bad luck, with little dribblers that just got through."
Relief pitcher Michael Paulus took over and was lights out, striking out six opposing hitters and not allowing a run in three innings pitched.
Brian Ellis, a senior first baseman, was 3 for 4 with three RBIs and three runs scored.
RELOADING
Chino Valley is coming off a season that saw nine seniors graduate after winning 16 games and claiming a 3A West region title a year ago.
The Cougars lost 5-0 to Northwest Christian, who they beat to claim the region championship a week prior, in the first round of the 3A state tournament. Middleton was quoted in The Daily Courier's season preview Feb. 21 as saying he may have lost nine seniors, but going position by position, "I either replaced somebody as good or better at that position."
QUICK REVIEW
After losing 5-4 to Snowflake in the season opener Feb. 22, the Cougars have outscored their last two opponents 32-8, including a 12-0 shutout over Williams on March 2.
UP NEXT
The Cougars open the Route 66 Baseball Classic in Mohave Valley on Thursday, March 8, with the Thunderbirds of Mohave. First pitch is set for 10:20 a.m.
Chino Valley will play a doubleheader Friday against Holbrook (8 a.m.) and Needles (3 p.m.), and a doubleheader Saturday against Southwest (12:40 p.m.) and Lake Havasu (5:20 p.m.) to wrap up the tournament.
After the tournament, Chino Valley plays three straight road games at Bagdad (March 16), Kingman (March 20) and River Valley (March 23) before finally returning home to host Sedona at 3:45 p.m. March 24.
Brian M. Bergner Jr. is sports editor for The Daily Courier. Follow him on Twitter and Instagram at @SportsWriter52, or on Facebook at @SportsAboveTheFold. Email bbergner@prescottaz.com or call 928-445-3333, ext. 1106.
More like this story