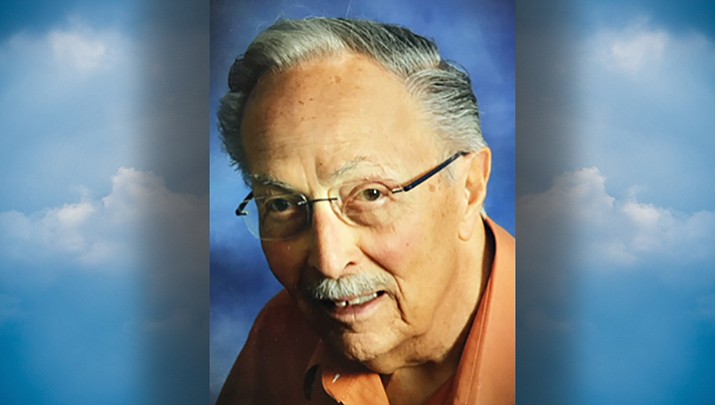 Originally Published: March 4, 2018 6 a.m.
Robert C. (Bob) Dyer, former free-lance writer and editor, and an Arizona newspaperman for many years, died Feb. 10, 2018. at the age of 93.
An Arizona resident for 69 years, Bob had resided in Prescott, Arizona, 42 years, having moved there from Phoenix. He was editor and publisher of The Paper, an award-winning weekly newspaper, for several years, after more than 22 years as a reporter, editor and columnist for The Phoenix Gazette, then Phoenix's afternoon daily newspaper. Previously, he had been a reporter and news staff writer for daily newspapers in Houston, Texas. He also worked in advertising and public relations in Phoenix. After leaving the newspaper business, Bob was a free-lance writer and editor and operated a small publishing firm. He performed a wide range of assignments for Arizona Highways magazine, including book editing, magazine writing and authorship of Timeless Images, a colorful and elaborate "coffee-table" book published in 1990 to commemorate the magazine's 65th anniversary. In the 1990s, he wrote the text for "Arizona Traveler," then the state's official travel guide, published jointly by Arizona Highways and the Arizona Office of Tourism.
A veteran of World War II, he served in an Army combat engineer battalion in the Asiatic-Pacific Theater of Operations, principally on Okinawa. After the Japanese surrender, he accompanied his unit from Okinawa to Japan, participating in early stages of the military occupation. His personal highlight of service in Japan was his reunion, in Yokohama, with his father, who had been involved in jungle fighting in New Guinea and The Philippines. Because of the war, the two had not seen each other for four years. After the war, Bob continued for a time in military reserve components, first in the Texas National Guard, then in the Army reserve, leaving service with the rank of master sergeant.
Formerly active in community life, Bob had been a member of the Arizona Academy, sponsor of the semiannual Arizona Town Halls; served two successful years as American Cancer Crusade chairman for Yavapai County; and had been a member of the Prescott Thirty, a community service organization active in the 1970s and '80s, and secretary-treasurer of Prescott Rotary Club. Born Dec. 3, 1924, in Greencastle, Indiana, Bob grew up in Indianapolis and attended public schools there.
He also attended Butler University and The Citadel. Bob is survived by his wife of 66 years, Mary Ellen Dyer of Prescott; their four children, Cliff C. Damron of Denton, Texas, David J. Damron of Phoenix, Anne Elaine Hanlon of Miami, Florida, and Robert C. Dyer Jr. of Scottsdale; plus several grandchildren and great-grandchildren.
Preceding him in death were his parents, Col. (ret.) Fred. C. Dyer and Geraldine C. (Jerry) Dyer; and brothers, Fred C. Dyer Jr. and Colin M. Dyer. Other survivors include several nieces and nephews. A memorial service will be conducted at 11 a.m. on March 10, 2018, at Prescott United Methodist Church,, where Bob was a member. His ashes will remain in the Prescott Veterans Administration Center Cemetery.
In lieu of flowers, please consider a donation to Good Samaritan Society - Marley House, Prescott.
Arrangements entrusted to Hampton Funeral Home.
Information provided by survivors
More like this story