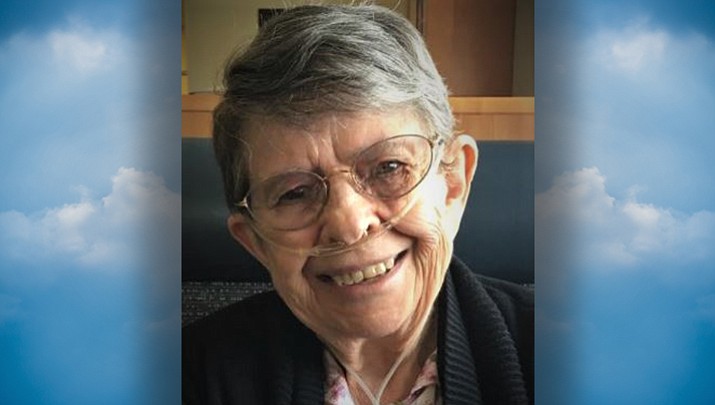 Originally Published: March 4, 2018 6 a.m.
Mary Margaret Hamlin Fraher Kelly June 8, 1935 - February 26, 2018
Mary Hamlin Fraher Kelly was born in Prescott, Arizona, to Ernest & Mildred Hamlin at the Mercy Hospital on Grove Avenue. Having attended St. Joseph's Academy, after graduation, she went on to Lambson Business College in Phoenix, and then returned to Prescott and worked at the First National Bank.
In 1956, Mary and Frank Fraher were wed. They had eight children. Known and honored for her baking and home management skills, Mary also volunteered at Sacred Heart Church and School as a member of the Altar Society, a homeroom mother, and a member of the Parent-Teachers Guild (PTG). She also served as a substitute teacher within the parish CCD program, and was instrumental in the expansion of the school to include a kindergarten and pre-school.
She assisted with Girl Scouts, Cub Scouts, and many ball teams. Later in life, Mary helped to develop a support group for divorced parishioners. A return to the workforce brought her to Prescott Junior High School in paraprofessional roles. She then went on to work for the City of Prescott in the water and city sales tax departments, retiring in 1996.
Mary was part of the Mile Hi Square Dance Club and especially loved to dance on summer evenings at the Courthouse Plaza. She also enjoyed painting and was active for several years as an usher at the Yavapai College Performing Arts Center.
Mary was preceded in death by her parents, Mildred and Ernest Hamlin; step-father, William Barnett; her daughter, Therese (Terri) Fraher; and former husband, Frank Fraher. Mary is survived by her loving children: Steve (Terrie) of Sacramento, California; Cathy (Pete) Bergmann, Ginnie (Bill) Weingartner, both of Chandler, Arizona; Andy (Cindy) Fraher of Prescott; Joe (Gina) Fraher of Mesa, Arizona; Larry (Heather) Fraher of Gilbert, Arizona; and Pat (Kelly) Fraher of Prescott Valley, Arizona; 16 grandchildren; her brother, Robert (Jean) Hamlin of Tempe, Arizona; two nephews and two great-nieces; and Frank's sister, Patricia Fraher of Fremont, California.

A funeral Mass will be held at Sacred Heart Church, on Saturday, March 10, 2018, at 1 p.m., with interment immediately following, at Mountain View Cemetery. In lieu of flowers, the family requests donations made in honor of Mary to the local chapter of the Alzheimer's Association, www.alz.org, Maggie's Hospice, www.maggieshospice.com or the Wilson's Disease Association, www.wilsonsdisease.org/ways-you-can-help/donate. Heritage Memory Mortuary in Prescott, Arizona, is handling arrangements.
Information provided by survivors
More like this story