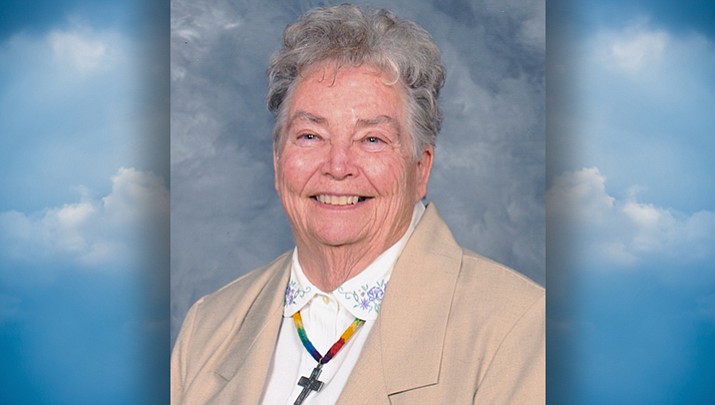 Originally Published: March 4, 2018 6 a.m.
Lee Edna Caseldine-Boysen, 83, went to meet her Savior on Feb 19, 2018, while at home with family. Born Aug. 28, 1934, at home in Georgetown, Kentucky, to the late Harry Crabb Caseldine and Myrtie Shropshire-Caseldine, she completed the family with her older sibling and a twisted tail dog named Scrappy.
After high school, Lee went on to graduate from UCLA in 1956 to pursue her life-long career in Physical Therapy. During her time at the Mayo Clinic in Rochester, Minnesota, she met Robert Henry Boysen and they later wed on Dec. 28, 1958, and had two children.
Independent and driven, Lee spent many hours lovingly dedicated to her family, working with disabled children, and with the United Methodist Churches in Florida and Arizona. She donated blood, entering her into the 20-gallon club and spent much time expressing her creative and love of nature sides.
Lee is proceeded in death by her brother, Harry Crabb Caseldine II; husband, Robert Henry Boysen; and son, Glen Robert Boysen. She is survived by her daughters, Gail Ann Boysen-Preset, Christy Anderson-Boysen; and four grandchildren.
Lee will join her husband at the Good Shepard Memorial Gardens in Ocala, Florida.
A local memorial service will be held at Prescott Valley United Methodist Church on Saturday, March 10, 2018, at 10 a.m.
In lieu of flowers or gifts, please make a donation in Lee's name to Hospice of the Pines through www.HopeandCareFoundation.org.
Cremation handled by Sunrise Funeral Home, Prescott Valley, Arizona.
Information provided by survivors
More like this story