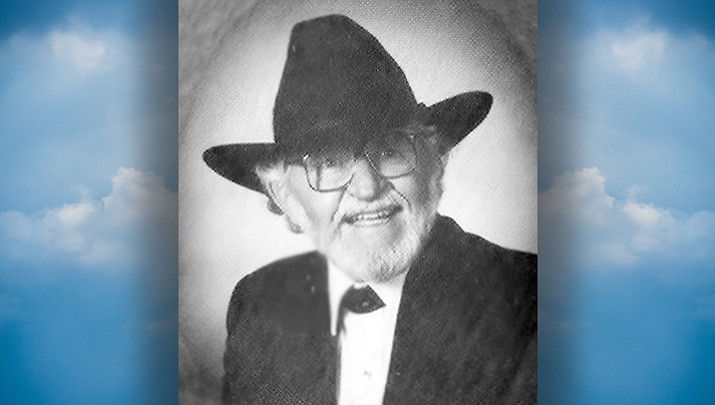 Originally Published: March 4, 2018 6:01 a.m.
Bruce D. Fee …… A Prescott Legend
Bruce D. Fee left us on Feb. 28, 2018, at 91 years of age. He was a true Prescott man, a participant and leader in many organizations of local history and culture for his entire adult life.
Bruce was born July, 21, 1926, in Rifle, Colorado. When he was only three, his family moved to Mesa, Arizona, in 1929, where they resided for 11 years until moving to Prescott in 1940. Bruce's father, A.D. Fee obtained the "Frigidaire" franchise for Central Arizona and later opened and operated "Prescott Appliance" located on north Cortez Street for nearly 30 years.
The television was the newest technological device of the time, but Prescott was without a signal until Bruce's dad established the "Booster Club" which provided the building and equipment on top of Mt. Francis to pick up the television signals from Phoenix and redirect them down into the Prescott area. Bruce grew up working in the appliance store and maintaining the television booster facility, where he eventually served as president of the organization for many years.
As a "Badger" of Prescott High School, Bruce was an aggressive running back, leading the football team to many victories prior to graduating PHS in 1944. Like many proud young men of the time, Bruce joined the United States Navy the day after graduation where he spent the next two years in submarine training and then served as a Fireman First Class aboard the USS Orion (AS-18) in a submarine squadron which included the USS Cusk, USS Cutlass and USS Bluefish. His final deployment was to Saipan as WWII in the Pacific eventually came to an end.
Upon returning to Prescott from the Navy, Bruce enrolled in college at Arizona State College at Flagstaff (NAU). In 1950, he received his Bachelor of Science Degree in Commerce-General Business with a minor in Earth Science, but Bruce's first love was art. He initially took an art class as an elective, but soon found himself hooked as his brush first touched a blank canvas. Most of his works were acrylic or water color landscapes of the local area, and a great deal of them featured "Thumb Butte" from virtually every aspect and time of day.
Like all starving artists, he had to earn a living from something other than his paintings. His early career included working for his father in the appliance business, a car salesman for Neil Hurt Chevrolet (located in the current Country Bank building on north Cortez Street), a movie projectionist at the Elks Theater and finally settling in as a bus driver for Prescott Unified School District with a unique and special route. Many of the children lived way out on distant ranches requiring a driver to practically live with them during the week in order to get the kids to school on time. He would leave well before dawn from the ORO Ranch 26 miles north of town, where he shared a room with the Cowboys in the bunk house.
After loading his personal van with sleepy kids from the ORO, he then picked up kids at the K-4 and other ranches along the way. Upon arriving at the Las Vegas Ranch, he would transfer the kids into the PUSD school bus and begin the long drive into town, picking up all ages of children until reaching Iron Springs Road. After dropping all the kids off at their various schools, he would spend his day picking up supplies and the mail for the far reaching ranches. (Sometimes he would be able to sneak in a little time to paint.) In the afternoon, the process reversed and he would find himself back at the ORO Ranch in the early evening. Bruce eventually retired from the PUSD after more than 20 years of faithful service. Bruce learned much about Prescott's origins as he spent a great deal of time researching and exploring the routes and memoirs of the "Governor's Party," as well as the original prospectors and ranch families that risked it all to make their way in the then very dangerous Arizona Territory.
He was a fantastic story teller who loved to give talks to local groups on his favorite subjects: the "Big Snow of 67," "The ORO Ranch" and "The Hardy Ville Road." Bruce's accomplishments and service to the Community of Prescott were substantialk, a few of which included: City of Prescott councilman, 30+ years of service with the Kiwanis Club of Prescott, member and past Sheriff of the Prescott Corral of Westerners, avid dancer and past Chief of the Smoki People, member of Prescott Art Docents and member of the Skull Valley Historical Society. Bruce was preceded in death by his parents, A.D. and Edith Fee; his brother, Howard Fee; and his oldest son, Randy Earl Fee. Bruce is survived by his son, Rick C. Fee, and has three grandchildren and five great-grandchildren.
A memorial service is scheduled for March 8 at 2 p.m. at the Heritage Memory Mortuary, 131 Grove Ave., Prescott. Please visit heritagemortuary.com to sign Bruce's online guestbook.
Information provided by survivors
More like this story