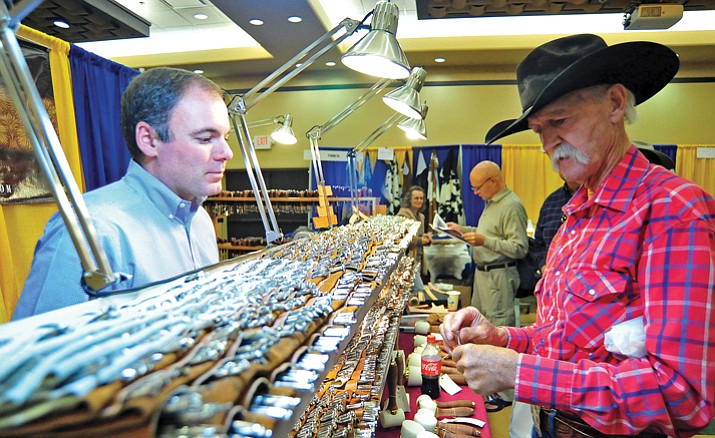 Photo by The Daily Courier.
Originally Published: March 2, 2018 6:01 a.m.
This weekend's 18th annual Southwest Leather Workers Trade show is the one stop shop to unite all leather workers, even if they're greener than the grass the cow walks on or skilled enough to envision a pattern just while looking at the cow.
"That's the focus of the show," said Ralph Solome Jr., a publisher of Leather Crafters & Saddlers Journal. He organizes the show. "If you wanted to get started, you could literally come in and get anything you need, and there's a lot of production level people and shops who come. And they'll stock up on tools and leather and adhesives and finishing products for a year."
Held from 9 a.m. to 6 p.m. Friday, March 2, 9 a.m. to 5 p.m. Saturday, March 3 and from 9 a.m. to 2 p.m. Sunday, March 4, at the Prescott Resort & Conference Center, 1500 Highway 69, this year's trade show has a record number of workshop registrants in 40 workshops, a leather-art exhibition and is also hosting the emergent saddle maker's competition for the second year and a leather-carving contest, Solome said.
The emergent saddle maker's competition, which is for saddle makers who have less than three years' experience, was started last year, sponsored by local saddle and holster maker Dusty Johnson, Solome said. That competition has become is now an annual part of the event, Solome said. The person who wins gets a cash prize to further their saddle-making education, he said.
As for the leather-carving contest, it exhibits nine-by-seven pieces of leather people have decorated and carved, Solome said.
"We have pieces coming in from all over the world this year," he said. "We have a fair amount that come from Europe and Eastern Europe, but the big showing this year seems to be from Asia. China, Taiwan and Japan."
As for the workshops, they're taught by world-class artisans who travel from all over the country, Solome said. They run the gamut from instructing beginners just getting into the craft to helping experts who have been doing it for quite a while, he said.
One workshop is free and open to kids, according to Cheril Reis, a publisher of Leather Crafters & Saddlers Journal. The children's workshop, Introduction to Leathercraft for Kids, is set for 9 a.m. to noon Saturday and open to children ages 9 to 15. They can try their hand at stamping belts, Reis said. To register for the class, call 715-362-5393.
Even if people who only had a passing interest in leather come to the show, there's something for them, too, he said. Admission is free, but there's an invitation-only art exhibit in one of the breakout rooms, with work by leather working masters, Solome said. Pieces come in from Europe and Asia for this one too, he said.
"There's quite a bit of artwork to see," Solome said. "If someone just wanted to come in and walk around and see some artwork, it's all free."
Moving the show to Prescott four years ago has been the best thing they've ever done, he said. It's the perfect community to host an art-focused kind of event, Solome said.
For more information, contact the Leather Crafters & Saddlers Journal at 715-362-5393 or at info@leathercraftersjournal.com.
By Jason Wheeler, reach him at 928-445-3333 ext. 2037. Follow him on Twitter @PrescottWheels
More like this story