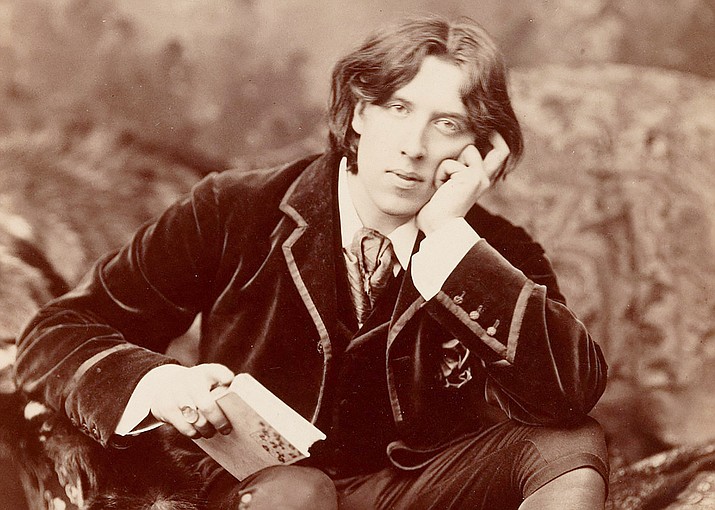 Originally Published: March 2, 2018 6:01 a.m.
There is nothing as satisfying as a jolly good performance of my favorite play of all plays, Oscar Wilde's "The Importance of Being Earnest." And Prescott Center for the Arts' production lives up to my, perhaps, unfairly high expectations.
From set designer Ered Matthew's fabulous Victorian furnishings to director Julie Chavez Harrington's excellent cast, the show delivers all of the play's high-style repartee with the intended humor and flair.
Set in 1890's England, "Earnest" — Wilde's biting satire of Victorian aristocracy — says so much, so beautifully, without saying much of anything at all. Every line of dialogue is sheer nonsense, but it keeps audiences wanting more of that same verbal confection.
There is a plot of sorts that is every bit as silly as Wilde's comic dialogue. In "Earnest," two young, gentlemen friends of the idle-rich class — Algernon (Shawn Welsh) and Jack (Jacob d'Armand) — discover that they have a habit in common, creating engaging fictions as a ready excuse, so they can do as they like. "Bunbury" is the term Algernon uses to describe the practice. He has invented a sick friend, whom he calls "Bunbury." The imaginary invalid has frequent relapses, which provide a convenient means for Algernon to escape tiresome social engagements.
Welsh will no doubt gain a few pounds before the production runs its two-week course, as he liberally downs more cucumber sandwiches (intended for his character's aunt, Lady Bracknell) and more muffins, too, than I've ever seen consumed in any other production of the play. It is deliciously funny (no pun intended), as is Welsh's articulation of some of Wilde's best lines.
Bruce Thomson is terrific in another primary role -- the formidable Lady Bracknell. Thomson also has some of the play's best dialogue. His nuanced performance, which presents his character as both daunting and kind, steals some key scenes.
Adriana Hurtado and Allie Lovell play Jack and Algernon's love interests, Gwendolyn and Cecily, respectively. The two young women's exchanges in the second act range from instant adoration to polite combativeness and back again. Their fluid views of each other offer another source of delight for the audience.
The roles of Miss Prism and Dr. Chasuble fare well in the hands of Celia Osborne and Bob Frey.
Worthy of mention, too, are two minor roles that are so well acted, they prove memorable to a degree belying their time upon the stage. They are Lane (Parker Anderson) and Merriman (Herb Voss), Algernon and Jack's respective butlers.
To sum up, without giving away one of the best twist endings in all of literature, the mystery of Jack's parentage is finally resolved. Gwendolyn's objection to Jack is rendered moot. Cecily decides to accept Algernon, even despite his name. Miss Prism is off the hook. And Jack and Lady Bracknell agree to give their consent to a marriage.
Just see the play.
"The Importance of Being Earnest" is on the Mainstage at Prescott Center for the Arts Theatre, 208 N. Marina St., Prescott, March 1-11, 2018. Evening performances, at 7:30 pm, are Thursdays, Fridays and Saturdays; matinees are Sundays at 2 p.m., with an added matinee performance on Saturday, March 10 at 2 p.m. Ticket prices for evening performances are $22 for adults and $17 for youth. For matinees, tickets are $18 for adults and $14 youth. For tickets, call the box office – 928-445-3286. Tickets and information are also available on the PCA website, pca-az.net.
More like this story