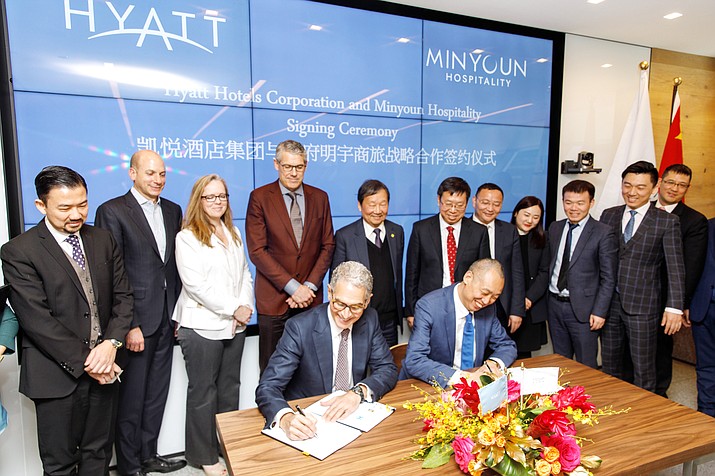 Originally Published: March 2, 2018 6 a.m.
CHICAGO — Tianfu Minyoun Hospitality (Tianfu Minyoun) and Hyatt Hotels Corporation (NYSE: H) have announced that Hyatt and Tianfu Minyoun entered into a strategic development agreement to drive the expansion of Hyatt Place and Hyatt House hotels in China.
Franchise agreements for the first three Hyatt-branded hotels under this strategic development agreement have already been signed. Mark Hoplamazian, president and chief executive officer for Hyatt Hotels Corporation, and Zhang Jianming, chairman of Tianfu Minyoun Hospitality, entered into the agreement to expand Hyatt Place and Hyatt House hotels in China. They were joined by members of Hyatt Hotels Corporation -- Tianfu Minyoun Hospitality, Road King Infrastructure Ltd., Sichuan Tianfu Bank, and Nuo Ruide.
As leading hospitality companies in China and the United States, Tianfu Minyoun and Hyatt will bring together their resources to leverage their respective strengths for the development of Hyatt Place and Hyatt House hotels, with plans to bring both brands to more travel destinations throughout China.
Under the agreement, 50 Hyatt Place and Hyatt House hotels are expected to be developed by Tianfu Minyoun in cooperation with Chinese investors over the next five years. The first of those include Hyatt Place Nanchong Gaoping, Hyatt Place Changchun Jingyue and Hyatt House Changchun Jingyue.
The three hotels will be operated and managed by Tianfu Minyoun. Additionally, Tianfu Minyoun is planning to develop hotels under The Unbound Collection by Hyatt and Hyatt Centric brands, in unique destinations across China. Once open, these hotels will be part of Hyatt's loyalty program, World of Hyatt. Guests will be able to earn World of Hyatt points and redeem for free night awards and access many other benefits at Hyatt locations worldwide.
"The relationship with Tianfu Minyoun is yet another milestone for Hyatt's growth in China," said Mark Hoplamazian, president and chief executive officer of Hyatt Hotels Corporation. "Hyatt continues to seek innovative ways to build a diversified brand portfolio by collaborating with owners and developers who share our values and our commitment to expanding our brand growth in a country with such significant growth potential."
Zhang Jianming, chairman of Tianfu Minyoun, praised his company's experience and profitability. "Tianfu Minyoun is a Chinese hotel group with 20 years' experience in operating upscale hotels, has developed strong guest loyalty and a striking return on investment," he said. "Under this exciting strategic cooperation with Hyatt, we will bring to the market Hyatt-branded hotels in innovative ways and contribute to the sustainable development of China's hotel industry."
David Udell, Asia Pacific Group president for Hyatt Hotels Corporation, commented on the unique nature of the agreement for Hyatt. "We are pleased to be working with Tianfu Minyoun, the first authorized third-party management company for franchised Hyatt hotels in China," Udell said. "Hyatt has a strong brand reputation among business and leisure guests for authentic hospitality worldwide. Tianfu Minyoun Hospitality has profound insights into the Chinese market and has gained crucial financial support to power our collaboration with them. Different from exclusive franchise and brand agency models, the cooperation between Tianfu Minyoun and Hyatt is set to make the most of both sides' respective strengths and resources to boost the development of the Hyatt Place and Hyatt House brands in China. With our combined efforts, we look forward to creating distinguished guest experiences that exceed expectations in the dynamic and highly competitive China market."
In a testament to the high expectations associated with the new partnership, Tianfu Minyoun has secured a credit line of 30 billion yuan, equivalent to more than $4 billion, from Sinhuan Tianfu Bank, for loans for construction and renovation for hotel owners of the projects planned in the agreement. Tianfu Minyoun has also teamed up with Road King Investment Group to establish a RMB 10 billion industrial fund, approximately 1.4 U.S. dollars, to support the agreement.
Minyoun Hospitality is a leading hotel group in Asia that provides services to both business and leisure travelers. Its mission is provide unique experiences for travelers. The group has six distinctive hotel brands – Minyoun Pavilion Hotels, Minyoun Hotels & Resorts, Galaxy Minyoun Collective Hotels, LIA! By Minyoun, LIA! Selective by Minyoun and UHO Hotels – and several restaurant brands, including Minyoun Yipalace, Minyoun Souphouse and Heqing Asian Restaurant.
In its statement, Minyoun Hospitality noted its 50 hotel and resort outlets, operating in 25 international tourism destinations in China, Thailand, France, and Fiji. Of those, 31 have already opened, according to the company's statement. Minyoun Hospitality intends to expand its business operations and tourism projects in desirable destinations throughout the world, the statement said. For more details, visit the website minyounhotels.com.
Hyatt Hotels Corporation, headquartered in Chicago, is a leading global hospitality company with a portfolio of 14 premier brands. As of December 31, 2017, the Company's portfolio included more than 700 properties in more than 50 countries across six continents, the company said in its statement. Hyatt's purpose, to care for people so they can be their best, informs the company's business decisions and growth strategy and is intended to attract and retain top colleagues, build relationships with guests and create value for shareholders, the company said in its statement.
Hyatt's subsidiaries develop, own, operate, manage, franchise, license or provide services to hotels, resorts, branded residences, vacation ownership properties, and fitness and spa locations, including under the Park Hyatt, Miraval, Grand Hyatt, Hyatt Regency, Hyatt, Andaz, Hyatt Centric, The Unbound Collection by Hyatt, Hyatt Place, Hyatt House, Hyatt Ziva, Hyatt Zilara, Hyatt Residence Club and exhale brand names. For more information about Hyatt Hotels Corporation, visit the websitre www.hyatt.com.
-- Information provided by Business Wire