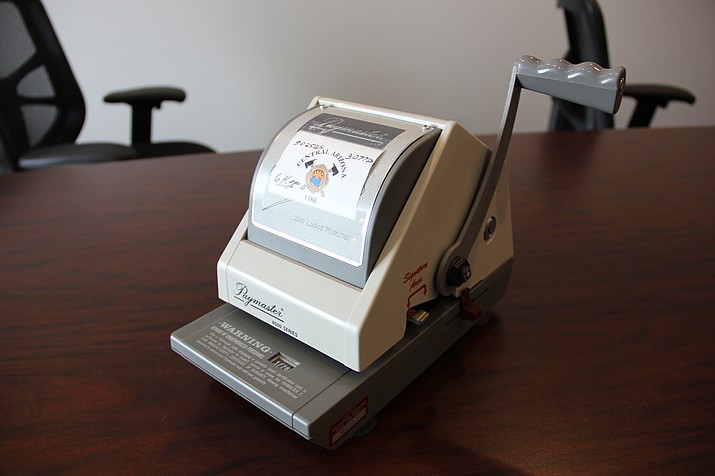 Photo by Max Efrein.

Originally Published: March 2, 2018 6:03 a.m.
Nicolas Cornelius, the attorney for the Central Yavapai Fire District (CYFD), has drawn a line in the sand.
At the request of the CYFD board of directors during its regular monthly meeting on Monday, Feb. 26, Cornelius said in the meeting that recent accusations regarding alleged criminal conduct of the fire district and its board members will no longer be a topic of discussion during the board's meetings unless an investigation calls for it.

"Matters related to criminal conduct are not properly before the board," Cornelius said. "I will not entertain them at this meeting."
The allegations have come from Larry Jacobs, husband of CYFD board member ViciLee Jacobs and member of the Citizens Tax Committee in Prescott.
His concerns stem from the use of an embossing machine frequently used by all three fire boards to emboss signatures of the directors on checks that have been approved by the boards' members for any given financial transaction.
At first, the allegations were specific to a $50,000 check made out by CYFD on April 18, 2016, to Pioneer Title Agency for earnest money deposit on CAFMA's new headquarters in Prescott Valley. But during Monday's meeting, he said there is a $250,000 check made out by the Central Arizona Fire and Medical Authority (CAFMA) on Aug. 1, 2016, to Bean Street Properties LLC that looks fishy as well.
"I see criminal activity," said Larry, a former law enforcement official.
Both checks are embossed with the signatures of former CYFD board chairman Steve Rutherford and former CYFD board clerk Robert Page.
However, Page has signed two separate affidavits saying he does not recall authorizing the use of his signature stamp on either check. Larry presented the first of these affidavits during the CYFD's January board meeting and the second during the February board meeting on Monday.
Page did not attend either of those meetings, but did confirm over the phone that the information in the affidavits is correct.
"I'm an old man, but I'm not so old that I would forget that I said yes to a $50,000 check or a $250,000 check," Page said. "Nobody called me to talk about signing a $50,000 or a $250,000 check."
While the board's staff have stated otherwise, saying Page was at least privy to the $50,000 check, Cornelius said the point is moot either way.

"There is no requirement that a particular director on the embossment should give specific authority to do that," Cornelius said.
He explained that as long as the board approves a financial transaction by a majority vote – which both transactions involving the checks were, according to board minutes – then that's all that is required to emboss a check on behalf of the organization's board. And since Page was the clerk of the board at the time the two checks were embossed, his signature accompanies Rutherford's on every check dated during their term together because their signatures shared the same embossment plate.
"That check looks exactly the same in terms of the signatures as every other check embossed in that manner at that time," Cornelius said about the $50,000 check.
Nonetheless, Larry is adamant in his position.

"This is going to be investigated," Larry said. "If Cornelius thinks this isn't going to be investigated, he's wrong; because I know people. It's going to get investigated."
Cornelius said Larry is more than welcome to bring his concerns to the proper authorities. "I think that he can certainly do that, and in the event that he does, the agency will respond as required in the event that that matter proceeds," Cornelius said.
Until then, Larry may no longer address the board about it, Cornelius said.
"I am not going to address allegations of criminal conduct because those matters are not within the jurisdiction of this agency," Cornelius said.
More like this story