Photo by Les Stukenberg.

Originally Published: March 2, 2018 11:25 p.m.
Photo Gallery
BMHS vs Youngker Softball 030217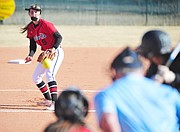 If this kind of pop continues for the hitters on Bradshaw Mountain's softball team this spring, there's no telling where they're headed.
The Bears scored 24 runs on 22 hits Friday afternoon, blanking Youngker of Buckeye, 24-0, in a run-ruled five innings at their campus field in Prescott Valley.
In the 4A clash on a sunny, cool day, Bradshaw Mountain of the Grand Canyon region improved its record to 2-1 in power-point games, while Youngker of the Southwest region drew even at 1-1.
Through the Bears' first three contests, they've scored a total of 56 runs with a 13-player roster consisting of eight sophomores, two freshmen, one junior and two seniors. (And, no, that's not a typo.) Playing for the second time in as many days on Friday, they responded well from a disappointing 12-10 loss to league opponent Coconino that was marred by fielding errors.
"We really wanted to bring it back, because we knew that's not the kind of team that we are," Bears sophomore ace pitcher Kirsten Schmidt said. "This [win] really proved that we are a good team – we know how to hit, we can play defense, we have the pitching, we have all the assets of being a good team."
Versus Youngker, Bradshaw Mountain batted around in the first three of the four innings that they hit. Sophomore third baseman and speedy switch-hitting leadoff Kassidy Outlaw paced the hosts offensively, going 4 for 5 with a grand slam, two RBI singles, six RBIs and three runs scored.
"Our mindset was definitely to get our heads straight and come back ready to play ball and shake off everything that happened [Thursday versus Coconino]," Outlaw said. "We did a good job with that. As a leadoff hitter, I've really been focusing on getting on base and being that leadoff runner, ready to let the rest of my teammates do their jobs and score me."
Cailee Morgan (4 for 5, three runs scored), Courtney Stahley (2 for 4, three-run double, three runs scored), Schmidt (2 for 3, two-run double), MeKenzie Smith (pinch-hit grand slam) and Lyndsey Busch (2 for 3, two doubles, three RBIs, three runs scored) contributed in the rout for Bradshaw Mountain.
"I'm still getting to know these kids – I'm having to see where they're trending and seeing what their tendencies are right now," veteran Bears coach Sharon Haese said. "I'm trying to make those adjustments with those newer kids, and seeing how much they really know about the game and that they understand how to make the adjustments."
Schmidt started in the pitcher's circle for Bradshaw Mountain, allowing no runs on one hit, striking out three, walking two and hitting a batter in three innings. Freshman Yesenia Gomez relieved Schmidt in the fourth and surrendered no runs on four hits with a strikeout and no walks in two frames.
Outlaw said she's played with Schmidt over the past four years in Club ball and has noticed Schmidt mature in a starting pitcher's role.
"It's very different from Club ball, which I'm used to," Schmidt said. "I'm still getting used to the atmosphere. This team, because we all haven't played [varsity] before, is doing very well and we're going to come along well. With the experience that I have and the experience that Yesenia has, we're going to go far."
UP NEXT
Bradshaw Mountain plays host to region foe Flagstaff at 3:45 p.m. Tuesday, March 6, in Prescott Valley. The Bears currently own a 1-1 record in a league full of younger talent. They will then travel to the annual Cool Nites Tournament on Thursday, March 8, at Apollo High School in Glendale. Bradshaw Mountain's scheduled to play a doubleheader against North Canyon at 9 a.m., followed by Cactus Shadows at 1:30 p.m.
Youngker will compete in its third straight power-point contest on the road when it visits Seton Catholic Prep at 4 p.m. Tuesday in Chandler.
Doug Cook is a sports reporter for The Daily Courier. Follow him on Twitter at @dougout_dc. Email him at dcook@prescottaz.com or call 928-445-3333, ext. 2039.