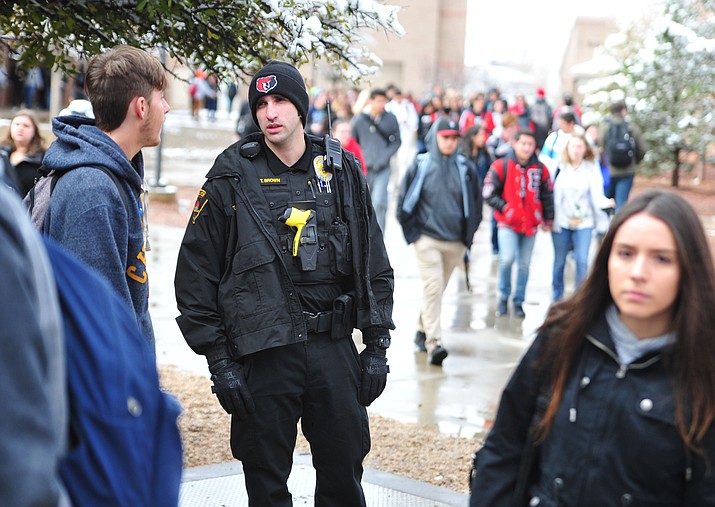 Photo by Les Stukenberg.

Originally Published: March 1, 2018 6:04 a.m.
For most children, the neighborhood school is their sanctuary, a learning hub where they acquire the building blocks of knowledge, make their first friendships and discover their own unique talents.
Never should a child, or parent, be afraid that they might die in their classroom.
In the aftermath of the latest mass shooting, this time at a Parkland, Florida, high school, top educators in the tri-city area have initiated community conversations about how best to protect children.
Do they budget more dollars for on-site armed police officers and mental health specialists at the sake of enhanced academic programs and replacing a leaky roof?
Do they treat a playground bully the same as a high schooler with a "hit list?" Is national hysteria ramping up calls to expel students for offenses that once might have been seen as a prank?
Prescott Unified School District Superintendent Joe Howard said no one has "THE" answer.
To him, though, it all starts in the classroom with caring teachers who build rapport with their students, some who have experienced traumas at very young ages. They are the ones to be certain a cry for help is answered sooner than later, he said.
The challenge for years has been to have adequate mental health support for children who cannot learn because their home life is so tumultuous, Howard said. Every year, district principals ask for more therapeutic counseling assistance.
This just might be the year their cries are heard, Howard said.
"We're going to find a way to fund more than we have," Howard said of the district that now has only one full-time social worker and clinical counselor.
As for school security, Howard said the district has invested bond dollars to do some building improvements, including added fencing, security cameras at all the schools and some front lobby renovations at the high school. Again, he would like to see the state offer additional funding for such expenses because over the past decade the district has lost some $8 million in capital funds.
One of the things the district will seriously consider for the 2018-19 budget is the funding of a full-time school resource officer at the high school. The cost is around $85,000 to $90,000.
For more than 15 years, the city covered the cost for a full-time school resource officer; at one time they covered the cost of at least two. This year, neither the city nor the school district was able to pay for the position. Donations of $45,000 enabled the district to have an officer on a rotating basis.
In the Humboldt Unified School District, the Town of Prescott Valley and district split the $90,000 salary for a school resource officer at Bradshaw Mountain High School. District leaders and the police see that position as valuable not only for security but also for fostering relationships with students such that they confide in the officer things that have even led to arrests.
In a column in the The Daily Courier just after the Florida shooting, HUSD Superintendent Dan Streeter assured he and his educational colleagues consider student safety sacrosanct.
To that end, Humboldt has formal threat assessment procedures, lockdown drills, active shooter training and "fantastic" relationships with local law enforcement.
"Our challenges continue to be reduced funding for capital expenditures that could enhance safety and inadequate operations budgets that limit access to critical supports such as social workers and mental health professionals within our schools," Streeter wrote. "...These are issues that we must face as a community and work together to solve. Schools play a critical role in helping students feel safe and supported, and in providing students more intensive services and supports as necessary."
Chino Valley Unified School District Superintendent John Scholl said his district is considering a capital bond request as a means to garner the revenue to enhance security across the district.
The Florida school massacre was not the impetus, but certainly "makes it all the more relevant and important for a bond to pass," Scholl said.
He agreed that the district will also be looking at how to afford more mental health resources.
Chino Valley district leaders, too, recently had to face an alleged school shooting threat. Scholl said the district followed its protocols in working with police to track down the perpetrators. What was unexpected was the erroneous information spread via social media that led police to post officers at every school.
"We take all threats seriously because you just never know," Scholl said. "We don't tolerate them. Never have and never will."
In his more than two decades as an educator, Howard said these issues are what keep him awake at night.
"I don't know where the balance is to be found with school safety because we're working with an invisible enemy. You can never do enough," Howard said. "The only good thing now is that everybody is thinking about it and that means help will come."
Follow Nanci Hutson on Twitter @HutsonNanci. Reach her at 928-445-3333 ext. 2041.
More like this story