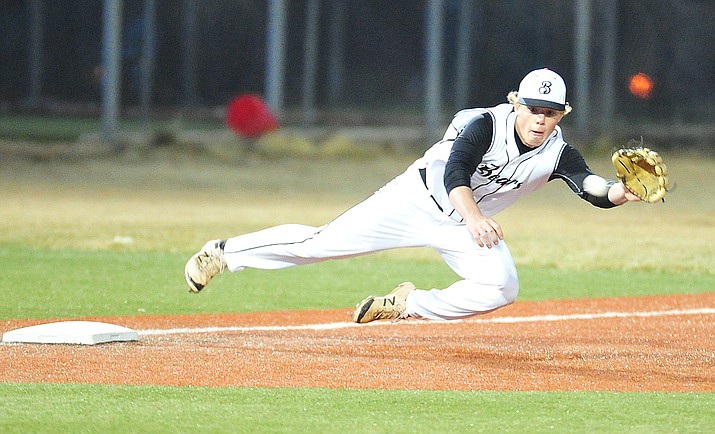 Photo by Les Stukenberg.

Originally Published: March 1, 2018 11:18 p.m.
Photo Gallery
BMHS vs Coconino Baseball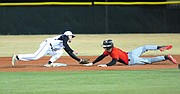 Playing under the lights and in temperatures hovering around the low-40s, Bradshaw Mountain's baseball team pitched and slugged its way past Coconino, 9-4, in the Bears' 4A Grand Canyon region/home opener Thursday night at their campus field in Prescott Valley.
The Bears, who began the 2018 season with a 1-2 record at the Wayne DesCombes Preseason West Side Invite Feb. 22 at Apollo High School in Glendale, moved to 2-2 overall, and 1-0 in power-point games and in region play. The Panthers dropped to 2-3, 0-1.
Bradshaw Mountain starting right-handed pitcher Bailey Ramirez earned a complete-game victory, allowing four runs on six hits while registering six strikeouts, a walk and a hit by pitch. Ramirez was masterful in the sixth and seventh innings in closing out the contest, retiring the side in both frames by notching four groundouts and two pop-ups.
"I just told myself before the game started that I was going to pitch the whole game," a grinning Ramirez said afterward about his first win of the season. "And once I knew that my pitch count was getting high, I just told myself to try to throw strikes — no more screwing around, just get it done."
Bears coach Brian Bundrick said that after Christmas, Ramirez "started dialing it in" and that he "started finding out a little bit of a curveball, and got the ball in a downward plane" as a "submariner" with a "free arm."
"He started working the bottom of the [strike] zone, and when he's there, he's really, really hard to hit," Bundrick added. "He's pretty close to unhittable [when he does that]. He's doing better than I thought."
At the plate, the Bears scored their nine runs on nine hits against four different Coconino pitchers. Bradshaw Mountain led 5-1 at the end of the second inning, and tacked on a run in the fourth and three more in the sixth to put away the Panthers.
Bears left fielder Travis Robinson paced the hosts, going 2 for 3 with a two-run homer, a single and two runs scored. Sophomore center fielder Paxton Prentice followed, as he went 2 for 2 with an RBI double and a single, walking twice. Timmy Young (RBI double) and Jeff Walker (RBI single) aided in the effort.
"This year we have a bunch of kids who are playing for one another," Bundrick said. "And the one thing we have learned is that bunts really matter. Hit-and-runs are ultra-important. Good at-bats are very important. These kids are battling thus far."
Robinson said his home run came on a fastball. Coconino reliever Chance Pierce allowed the dinger on a 3-1 count with two outs in the second inning.
"I was just looking for the pitcher to deliver me one down the middle with that count," Robinson added. "I looked for it and I read it, kept it inside and hit it out."
Coconino, which lost in the second round of the state tournament in 2017, struggled in the field and at the dish for most of Thursday evening. Panthers second baseman Ty Walters was a bright spot offensively, going 2 for 3 with two RBI singles.
Robinson said his Bears team has developed chemistry early in the season, which should continue paying dividends.
"We all pretty much trust each other at this point, so we know we can make plays happen," he added. "When our spirit's there and we know we can do it, good things happen from that. Some confidence goes a long way in this division."
UP NEXT
Bradshaw Mountain visits Youngker (3-3 overall, 1-1 power-point games) for a non-region 4A contest at 4 p.m. today, March 2, in Buckeye.
Coconino plays host to Thunderbird (2-0) for a non-region 4A game at 4 p.m. today on its campus field in Flagstaff.
Doug Cook is a sports reporter for The Daily Courier. Follow him on Twitter at @dougout_dc. Email him at dcook@prescottaz.com or call 928-445-3333, ext. 2039.
More like this story