Originally Published: June 13, 2018 5:58 a.m.
Arizona students call for gun control on Pulse anniversary
PHOENIX (AP) — About 30 students gathered at the Arizona state Capitol for a "die-in" on the second anniversary of the Pule nightclub shooting.
March for Our Lives Arizona organized the event Tuesday in honor of those killed at the Florida nightclub and to call for a special session on gun control. Participants spread out on the floor of the Executive Tower for 49 minutes, one for each shooting victim.
Republican Gov.Doug Ducey had proposed a school safety bill earlier this year. That plan would increase mental and behavioral health resources for schools. It would also create a new way to petition courts to prevent a dangerous individual from accessing guns.
But the legislature adjourned without passing the plan.
Ducey said Tuesday he wouldn't bring lawmakers back if they wouldn't take action.
Glendale teen dies of injuries after being shot at a home
GLENDALE, Ariz. (AP) — Police in Glendale say a teenager has died after being shot last week at a home where he was visiting a friend.
They didn't immediately release the name of the 14-year-old boy, but say he died Monday night.
Police say they're awaiting a decision to be made by the Maricopa County Attorney's Office on whether any charges will be filed.
They say the teen was shot on June 5 while he was visiting his 13-yearp-old friend at a Glendale home.
The boy was transported to a hospital in critical condition.
Police haven't released the names of the two teens yet or released details of how the shooting occurred.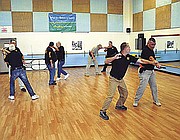 County sheriff considering deal with Arizona Rangers
LAKE HAVASU CITY, Ariz. (AP) — Mohave County Sheriff Doug Schuster is considering teaming up with the Arizona Rangers to provide more law enforcement for events like the county fair.
Today's News Herald reports Schuster says although the all-volunteer force of rangers cannot make arrests, it only makes sense to bring them on board to help his depleted department.
Schuster says the rangers, who are mostly former law enforcement personnel, will be a "great" benefit to the citizens of Mohave County.
The Arizona Rangers are a uniformed, law enforcement auxiliary reporting to the governor of Arizona with a history dating back to the 1800s.
The Arizona Rangers provide law enforcement assistance to federal, state, and local law enforcement agencies within Arizona along with security services for community and civic organizations, as well as support for youth and youth organizations.