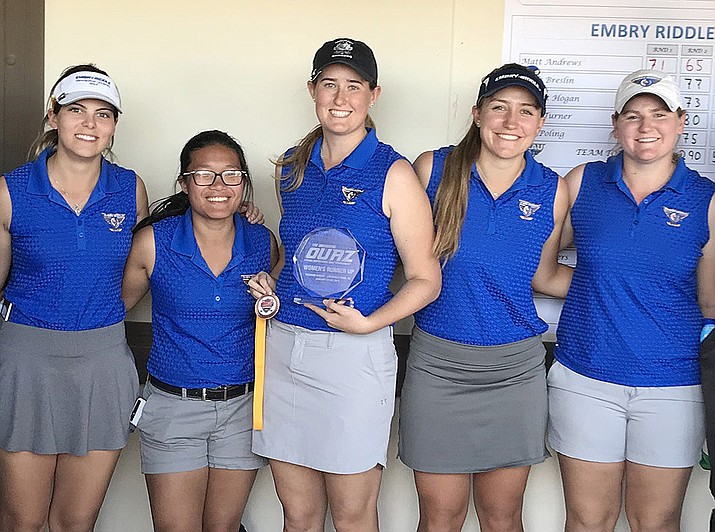 Originally Published: January 31, 2018 10:50 p.m.
The Embry-Riddle men's and women's golf teams opened their 2018 spring season this week at the Ottawa University Spring Invite, placing second and third, respectively, at Wigwam Heritage Red Golf Course in Goodyear.
After 36 holes on Monday, the ERAU women claimed runner-up honors by tallying a 644 score, five shots behind 2017 NAIA national champion Oklahoma City. Embry-Riddle shot a final round of 317, one stroke ahead of OKC.
Nicole Lopes led the Eagles, firing a 158 total (79-79) in the two-round tournament, followed by teammates Elle Carlson and 2017 national runner-up Jessica Williams at 163.
Lopes finished third overall (236 score), followed by Carlson in fourth (239) and Jessica Williams in fifth (240). Trae Jones (248) and Megan Hessil (252) both contributed rounds for the Eagles.
"We have a very solid, consistent and competitive team, and we played up to our potential in our first tournament of the spring," ERAU coach Kim Haddow said. "I am very proud of Nicole, who is continuing her strong play from the fall and her win at Moon Valley in November."
Haddow added that Carlson and Williams competed strongly, and that Jones "is in transition with some swing changes."
"She opened up very strong with a 76, and I know she will continue to be competitive for us," the coach added about Jones. "Megan Hessil played well, and we have some things she and I will be focusing on as well. I am pleased with our entire team's ability to focus, perform and be competitive. We have already identified areas to improve in the next three weeks before we head to [our next tournament] at Cal Baptist."
MEN
For the ERAU men, they opened with a first-round score of 291, 10 strokes below the team's average, and followed that with a 290, 11 strokes below its average.
Those performances put the Eagles' men in third place, behind Oklahoma City (ranked fifth nationally in the NAIA) and Texas Wesleyan (ranked second nationally). The highlight of the day's scoring came from ERAU senior Matt Andrews, who shot a 71 and a 65 for 8-under par, notching three eagles and two birdies.
Andrews scored a 72 in the third round to finish fifth place overall. The men shot a third-round score of 300, which secured their third-place finish.
"I am extremely pleased with Matt's play," ERAU coach Mike Haddow said. "To shoot 8-under par for the tournament and finish fifth in this strong field is an indication of just how competitive the young men are at the NAIA level."
Garrett Hogan also shot well for the Eagles (73-73-74-220). Lewis Breslin, Jacob Turner and Sean Poling contributed two rounds each toward the team's totals.
HONORED TONIGHT
During halftime of the ERAU men's basketball game versus UC-Maritime at 7:30 p.m., the women's golf team will be honored for capturing runner-up honors at the 2017 NAIA National Championship tournament.
UP NEXT
The ERAU men's next event is the Arizona Christian Invite at Moon Valley Country Club Feb. 12 and 13 in the Phoenix area. The women's next tournament is the Cal Baptist Invite in Riverside, California, Feb. 26 and 27.