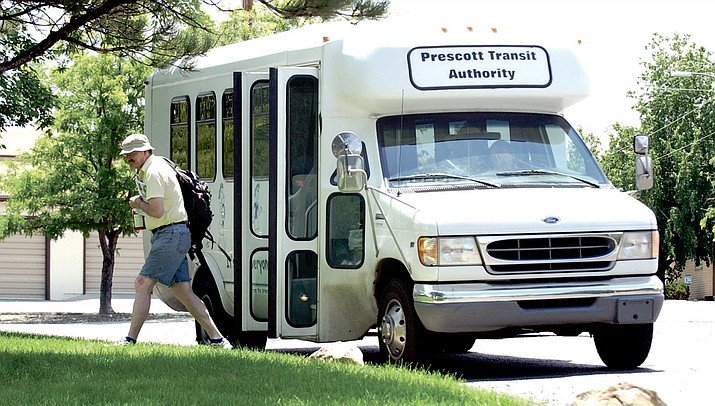 Originally Published: January 31, 2018 6:01 a.m.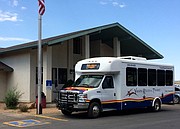 Facing an annual loss of more than $50,000, Prescott Transit Authority is officially out of the Citi Bus business.
The company announced over the weekend that it is stopping its Citi Bus service today, Jan. 31.
For decades, the privately-funded Citi Bus has carried passengers to Prescott's shopping centers, schools and offices. Its closure means that residents who depended on the service, for nearly 30,000 rides a year, will have to find new ways to get around Prescott.
"Our company can no longer fund this service on its own," Steve Silvernale, owner of Prescott Transit Authority, announced in a Jan. 26 news release.
The bus service dates back to the 1920s, when it was known as the Prescott Whipple Stage and carried soldiers from Fort Whipple (now the VA Medical Center) to downtown Prescott.
Silvernale's father, Jack, bought the service in 1975 to keep it from being shut down, Silvernale said. Since then, his family has operated the Citi Bus, along with its other transportation services, including taxis, limousines, and bus service to Phoenix.
Silvernale says those services helped to offset the cost for the Citi Bus.
"However, those services can no longer support both the Citi Bus and the other operations of Prescott Transit, as the costs of operating have risen in all areas of expense," the news release added.
Silvernale estimated the "real, hard money" cost to the company for subsidizing the Citi Bus at upwards of $50,000 per year.
"Without additional financial support, the losses are just too much for our company to absorb …" he said. "There is just no assistance available through the City of Prescott or other funding."
Void in Prescott
Prescott Mayor Greg Mengarelli acknowledges that the closure of the Citi Bus will be a loss for the city.
"Citi Bus has been a mainstay for public transit for 96 years, and I'm saddened by their need to cancel service," Mengarelli said Tuesday. "It's been crucial for the homebound, and I'm grateful to the Silvernales for providing the service."
Mengarelli said he discussed the matter with the Citi Bus owners and indicated that the city would not be able to help pay for the service.
"The city is just not in a situation to subsidize or help," he said, pointing out that Prescott is focused on paying down its public-safety pension debt.
With the void created by the closing of Citi Bus, Mengarelli said those who need transit services "might get a larger voice in the community."
As for a city-sponsored public-transit program, though, he said, "At this point, I don't see the city having the capacity."
Rather, Mengarelli is hopeful that the private sector will step in. "I'm optimistic that non-profits or faith-based organizations will help," he said.
Growing regional transit
Meanwhile, the Citi Bus closure will not affect the community's other transit operation – the Yavapai Regional Transit organization, a federally funded program that carries passengers between Chino Valley, Prescott, and Prescott Valley.
Ron Romley, chairman of the Yavapai Regional Transit Board, noted Monday, Jan. 29, that Yavapai Regional Transit has grown dramatically since its start in 2013.
"Last year, our passenger count was 6,000 passengers," Romley said. "Every year for the last few years, we have increased an average of 30 percent in ridership."
The numbers grew even more last year, when Yavapai Regional Transit's route schedule went from three days a week to five days a week, Romley said, adding, "We are projecting 10,000-plus riders for this year."
Currently, Yavapai Regional Transit offers four trips per day between Chino Valley and Prescott, along with Friday service to Prescott Valley.
The 14-passenger vans stop at a number of Prescott locations, including the Gail Gardner Way Walmart, the Courthouse Plaza, Yavapai College, Frontier Village (Picture Show theater and Target), and the Prescott Gateway Mall.
Still, Yavapai Regional Transit's vans do not offer as many Prescott routes and stops as did the Citi Bus. And because of the rural nature of the organization's federal transit grant, Romley said that likely will not change.
"Because of our grant, we can't pick up all of the routes (Citi Bus) had," Romley said.
He explained that the organization is currently operating under a grant that is dedicated to rural transit. "Being a rural grantee, and Prescott being an urban area, it is very restricted," Romley said.
More information about Yavapai Regional Transit's routes is available online at: www.yavapairegionaltransit.com.
'Heartbreaking' decision
Silvernale said the feedback from regular Citi Bus riders has been one of disappointment. "It's very frustrating for them, and for us, as well," he said.
Silvernale attributes the Citi Bus closure, in part, to government intervention and regulation. "The primary culprit in this financial dance, common to all industries, is the rise in minimum wage and driving the cost of everything purchased," he said.
Increased competition from ride-sharing programs that do not operate under the same requirements also contributes, Silvernale said.
"It's more than frustrating, it's heartbreaking," he said.
The Citi Bus drivers will be reassigned within the company, and no jobs will be lost, the news release added.