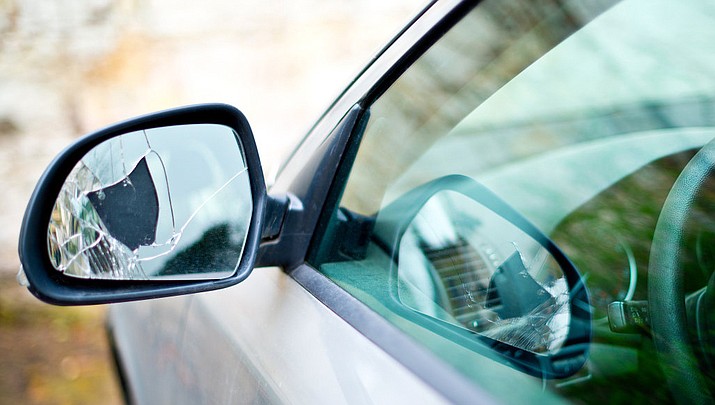 Originally Published: January 29, 2018 6:05 a.m.
There are seemingly endless infractions that can draw a police officer's attention to your car — and your driving. Everything from a cracked windshield to items hanging from your mirror to burned-out license plate lights is fair ground for a ticket.
And maybe you've even used this line: "With all the crime going on, you're stopping me for that?"
"The average citizen has no idea how many traffic stops for legitimate civil traffic violations lead to discovery of drug paraphernalia or illegal drugs in the vehicle," Jerry Ferguson, Prescott Valley Police spokesman, said.
Equipment violations don't necessarily result in a ticket.
"The vast majority of the time, (police) will issue repair orders for these (minor) violations, as the purpose and goal is to ensure compliance with the law," said Lt. Vince Schaan of the Chino Valley Police Department. "If we can accomplish that with a repair order, then we utilize that option. If the repair isn't corrected as required then a citation can be issued, but we have found the majority of the time all equipment issues are corrected."
Capt. John Seeley, of the Department of Public Safety, said, "There are a number of laws that require various vehicle equipment to be functional and in place. Whether it equates to a citation just depends on the individual circumstance."
One unexpected violation for which police will stop a vehicle is a cracked windshield.
"Depending on the location of (the crack), it can obstruct the view of the driver," Seeley said. "Anytime you have a crack, because of the way windshields are designed, that windshield has now become somewhat compromised. It's more of a safety issue; if another object strikes that windshield, it's more likely to shatter."
Seeley said troopers can use their discretion to stop a vehicle for a cracked windshield because the law is vague on exactly what is a bad enough crack to cite the driver.
Another fairly common violation is a lack of mud flaps, Seeley said, because when someone has their pickup truck lifted, they must also add mud flaps. Sometimes they don't.
The license plate lamp is also important. "At night, you can't read the license plate without having the light on it," Seeley said. "That helps us to identify whether the vehicle might be stolen, (or) the plates are current."
He said many drivers are "initially caught off-guard" by a stop for a license plate light.
Ferguson said, "Most people know why they've been stopped, and don't argue with the officer about the ticket; obviously they would prefer not to get a ticket."
A repair order, Seeley said, requires the owner to take the vehicle to a shop or home and not drive it until the repair is made and then mail notification back within five days.
"We're seeing more people with their dogs or their pets in their laps while they're driving, and that's an obstruction," Seeley said, not to mention what will happen to the pet if the car is involved in a crash and the airbag deploys.
"These issues are rather common and as people become more and more familiar with these issues, they will probably notice them on other vehicles as they drive around and hopefully will help educate their friends and family to these violations," Schaan said.
Follow Scott Orr on Twitter @AZNewsguy. Call him at 928-642-6999. Email him at sorr@prescottaz.com.
More like this story