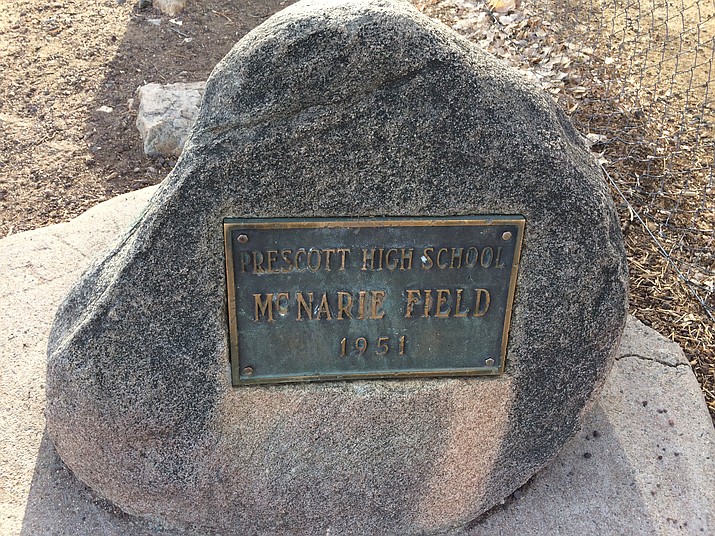 Photo by Nanci Hutson.

Originally Published: January 27, 2018 6 a.m.
Editor's Note - This is another installment in an ongoing Courier series, Moments in History.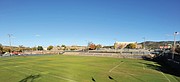 In the late 1940s, the now Mile High Middle School was the city's high school and the adjoining field that extends from just beyond the parking lot to Goodwin Street was nothing but a plat of dirt.
The pre- and post-World War II era football players practiced on the surface that when wet was a muddy mess. Games were played across town at the rodeo grounds. Many a mother complained about a son forced to scrimmage on soil tainted with cow manure, according to recollections of high school alumni.
In those same years, Marion "Pop" McNarie was a popular geometry teacher, athletic director and principal who decided he wanted a suitable track and field for the schools' athletes — present and future.
To do so, the four-decade educator tapped into the goodwill of local merchants for low- to no-cost materials and construction equipment. He recruited students, including his own sons, to supply the labor.
From his sons' recollections, McNarie spent almost every weekend from 1947 until the Class of '49 graduation transforming what started as little more than a mud bog into a then-and-now natural sod athletic field and cinder track. Irrigation was added to the initial project so that the field is still today a true source of community pride.
"He ramrodded the whole thing through, and gradually, it came to fruition," said his son Robert McNarie, Class of 1949, of his father's role in turning a field of nothing into source of school pride.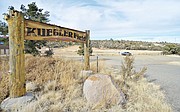 "He worked his butt off," echoed younger brother, Bill McNarie, a retired Arizona school administrator who said his sole participation in the field project as a 10-year-old was riding along on the tractor as the field was prepped and built.
Robert, who left Prescott when he was 18 and more than 60 years later lives in Nevada, Missouri, said the base soil for the original field was moved there from an underground area between Watson and Willow lakes. His father, who had a background in surveying, worked with a Granite Street construction company to properly grade the field. He remembers his father using a level to assure it was smooth.
As for the track, "Pop" again went to area businesses to buy or obtain donations of concrete blocks and cinders to create a proper running surface, his son said. He went to a local sawmill for the sawdust to build the pole vault pit.
On the southeast end of the field is a stripe of concrete just off the track. Robert said he remembers carving his initials in the wet cement. On a visit to Prescott about four years ago, he tried to find them but could not.
"Pop" drafted plans to build bleachers on the west side of the field with the notion of it becoming an athletic complex, but that "ambitious project" never came to pass, his sons said.
Today, there are a couple, portable sets of metal bleachers on either side of the field.
"I saw the drawings on the dining table of our home on Mount Vernon," Robert McNarie said.
In June 1951, the Prescott Unified School District Governing Board dedicated the field in McNarie's honor.
All these years later, a small boulder sits behind the chain link fence at a side entrance off the school parking lot just over the red rail footbridge on the southwest corner of the field. Attached to the face of the rock is a brass plaque that reads "Prescott High School — McNarie Field — 1951."
Unless one is looking for it, though, the rock and plaque are easy to miss.
Class of 1958 alumnus and local history buff Becky West said "Pop" McNarie was a passionate educational leader who "stepped up to the plate many times to help the schools." She still calls the field by its proper name.
The real story behind the field may have faded, or been forgotten. But the McNarie brothers say the still-existing field that now is home to many year-round civic events is a proud legacy to their father, a beloved educational legend in Prescott.
"It's just a shame it is now known as Mile High Field and not McNarie Field," he concluded.