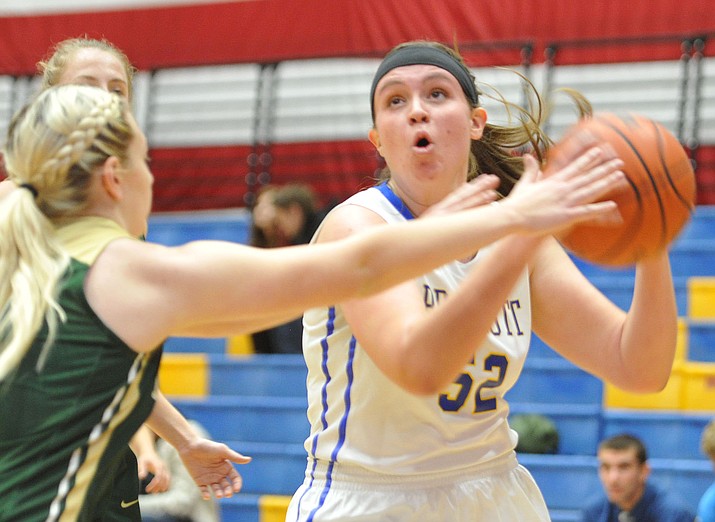 Originally Published: January 26, 2018 8:49 p.m.
Updated as of Friday, January 26, 2018 11:34 PM
EDITOR'S NOTE: This story was updated from an earlier version.
Mary Hald records her 4th double-double of season in loss
Mary Hald recorded her fourth double-double of the season with 11 points and 14 rebounds, Theresa Gutierrez added 15 points, but the Prescott girls' basketball team fell 49-46 to region rival Lee Williams in overtime Friday night.
It is the third straight loss for the No. 23-ranked Badgers, which have won only three times at home all season and are now 0-2 in overtime games.
Despite Prescott (9-13, 2-7 Grand Canyon) being four games under .500 this season, they've only been outscored by 27 points (903-876) and have lost seven games by two possessions or less.
Gutierrez added four rebounds and four steals to her team-high point total, while Abby Chartier scored six points, grabbed nine rebounds and had two steals against the Volunteers.
Molly Courtright chipped in with 13 points and five rebounds in the loss to No. 19-ranked Lee Williams (9-10, 5-5 Grand Canyon), which snapped a three-game losing streak.
UP NEXT
Prescott has three games remaining on the 2017-18 regular season schedule, two of which are on the road, the first against cross-town rival Bradshaw Mountain in Prescott Valley at 5:30 p.m. Tuesday, Jan. 30.
The No. 15 Bears (12-9, 5-4 Grand Canyon), aiming to lock up a home game during the 4A conference play-in round, beat Prescott 38-33 in their first matchup of the season at the Lady Badgers Winter Classic on Dec. 29.
Prescott is scheduled to travel to Bullhead City and play Mohave (Feb. 2) before returning home to host the Bears in their season finale Feb. 6.
Brian M. Bergner Jr. is sports editor for The Daily Courier. Follow him on Twitter and Instagram at @SportsWriter52, or on Facebook at @SportsAboveTheFold. Email bbergner@prescottaz.com or call 928-445-3333, ext. 1106.