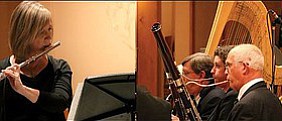 Originally Published: January 26, 2018 6 a.m.
The Prescott Chamber Orchestra will present its opening concert of the new year, featuring a mix of classical music from the Romantic and Contemporary periods. The concert will also showcase the talents of the orchestra's associate conductor, Peter Mueller.
He will open the concert with Karl Jenkins' "Palladio Allegretto," the first and most significant of three movements. Jenkins' inspiration for the piece comes from the works of a sixteenth century architect, Andrea Palladio, whose work reflects the celebration of order and harmony of the Renaissance period. The main theme (popularized by its use in an often-repeated diamond commercial on TV) is introduced by the entire orchestra playing in unison and is developed throughout by the solo instruments and the entire orchestra.
"Hermann and Dorothea," an epic poem by Johann Wolfgang von Goethe, was the inspiration for a concert overture composed by Robert Schumann as his health was failing in 1851. The poem tells of the tragic fate of two lovers during the French Revolution. Appropriately, the major theme, introduced during the first several bars, is taken from the Marseillaise and is subsequently passed among the various instruments, leading to a dramatic conclusion.
"Pelleas et Melisande Suite" was composed by Jean Sibelius, inspired by Maurice Maeterlinck's drama, "Pelleas et Melisande." Nine movements comprise this suite. The first sets the atmosphere for the story, in which Golaud, a hunter, finds Melisande in the forest and brings her home. Melisande's attraction to Golaud's brother, Pelleas, grows as does Golaud's jealousy. Golaud slays both lovers and is left to ponder his life as Melisande's newborn takes her place. The suite's later movements elaborate on the tensions between the rivals and the tragic conclusion.
Mueller has also programmed a somewhat unusual finale for the concert. Soloist Curtis Peacock will perform two short works — "Beelzebub" and "Olosabut" — for tuba and orchestra. (Olosabut is tuba solo spelled backwards.)
Peacock, a music teacher at BASIS school in Prescott, is particularly interested in the music of the "Golden Age of Bands." The period ranges from around 1880 to 1920. He said that he plans to create modern scores and orchestrations for the music from that period.
Concert downbeat is at 2:30 pm on Saturday, Jan. 27, at St. Luke's Episcopal Church, 2000 Shepherds Lane, in Prescott. Admission is $20 for adults and $5 for students. Discounted tickets and additional information concerning the orchestra and this concert is available on the website www.prescottstrings.com.
More like this story