Originally Published: January 26, 2018 6:02 a.m.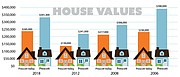 In hindsight, it's easy to see that the signs of impending economic upheaval were already apparent as 2007 ended and 2008 began.
Housing values had been falling gradually for a year or two, and municipal sales-tax revenues appeared to be topping out.
Within months of the New Year in 2008, the economic downturn that became known as the Great Recession was underway.
In the Prescott area, the recession brought an economic slump that included plummeting house values, lagging retail sales, and a dramatic dip in tourism.
The City of Prescott's sales-tax revenues dropped more than 26 percent within just four years — from a high of $31.1 million in 2007 to a low of $23 million in 2011.
And on the home front, Prescott's median house value decreased from about $390,000 in 2006 to an average sale price of $240,000 in 2012.
Median is the exact middle of all home prices, where as average can be skewed by some very high, or very low sale prices.
Where are we now?
Today, 10 years after the start of the Great Recession, a look at the numbers begs the question: Are we back yet?
On the national level, the answer appears to be 'yes," as indicated by record highs in the stock market and continued growth in consumer spending.
The Dow Jones Industrial Average, which fell from a then-peak of 14,000 in October 2007 to a low of less than 7,000 in March 2009, has, by now, more than tripled — topping 26,000 this week.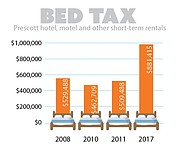 And national retail sales — fueled, in part, by online shopping — have also grown. For the 2017 holiday season, retailers reported a 4.9 increase over previous years.
Still, the national trends have not always been immediately reflected in the communities of Yavapai County.
During the years of recovery, from 2012 to 2016, Prescott's sales-tax numbers continued to grow, but still fell short of the high in 2007.
That changed in 2017. That year, Mark Woodfill, the city's budget and finance director, reported that sales-tax revenues had caught up with the pre-recession numbers.
For 2017, Prescott's sales tax collections — including its 1 percent for the general fund and 1 percent for streets — stood at about $31.2 million, slightly above the 2007 total of $31.1 million.
A look further back, beyond the peak year of 2007, shows that the city's taxable sales rose dramatically in the middle of that decade. As recently as 2004, the city's total sales tax revenue was $23.4 million.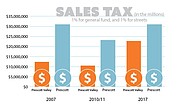 Growth during the mid-decade years was stimulated by massive construction activity, which slowed down considerably during 2010, 2011, and 2012.
The Town of Prescott Valley's sales-tax numbers show significant growth since the peak in 2007/2008. The town's management services director, Bill Kauppi, said he attributes that growth largely to the recent addition of a number of big-box retail stores. (Prescott Valley's Walmart, Sprouts Farmers Market, and TJ Maxx all opened in 2014).
Previously, Kauppi said, the town was dependent mostly on construction, which, as in Prescott, slowed dramatically during the recession.
Also contributing to Prescott Valley's overall sale-tax growth was a half-cent tax increase in 2015/2016.
The town's earlier sales-tax numbers peaked in 2007/2008 at $12.4 million and bottomed out at $10.2 million in 2010/2011.
The town's sales-tax totals gradually came back in the next few years — to $10.9 million in 2011/2012 and $11.5 million in 2012/2013. Then, in 2013/2014, the town surpassed its earlier peak in sales-tax revenue, with $13.4 million.
In the town's most recently concluded fiscal year, total sales-tax reve nue was $22.8 million. A portion of that total will be reimbursed to developers for agreements on infrastructure improvements. Kauppi said the town has a total of $2.3 million budgeted in the current fiscal year to cover the costs for a Crossroads agreement and a Glassford Hill agreement.
He also noted that the recent closure of Sam's Club in Prescott Valley would negatively affect the town's sales-tax revenue in the coming year.
Housing bubble
By early 2008, locals were well aware that the economy was in trouble. A March 1, 2008, Daily Courier report on the Central Arizona Partnership's economic-forecast conference stated: "A peek at the short-term economic outlook for the nation and state is bleak."
That article went on to report that Prescott's median home price was down from $390,000 in 2006 to $306,000 in 2008. And Prescott Valley's median home price was down from $236,000 to $217,000.
Things got much worse in the ensuing years.
A Jan. 6, 2012, report in the Daily Courier listed the average-sold price for Prescott homes at $240,984, while Prescott Valley's was at $139,371.
The Courier's business section the same day told the story of a single mother of four who had earlier faced foreclosure of her home and was then dealing with foreclosure on the duplex unit she was renting.
Today, home values in Prescott have nearly reached the 2006 median price, and Prescott Valley's have surpassed it.
According to Zillow.com, Prescott's median home value currently stands at $341,300 while Prescott Valley's is at $245,000.
More like this story