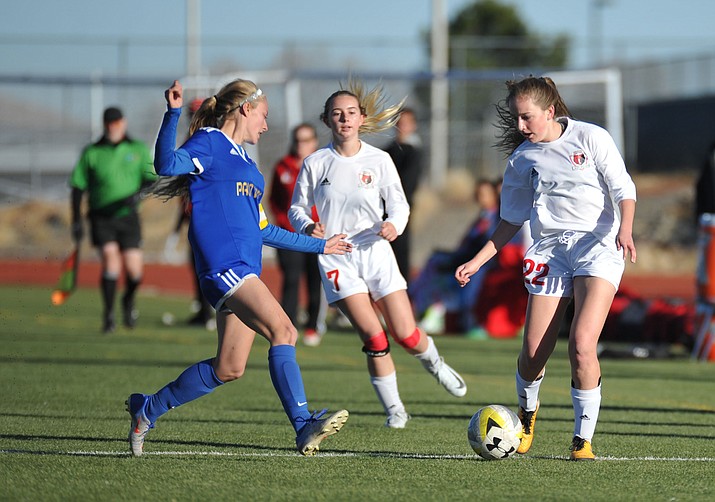 Originally Published: January 25, 2018 11 p.m.
Photo Gallery
BMHS vs Palo Verde Magnet Girls Soccer 012518
For the first time in 16 years, the Bradshaw Mountain girls' soccer team had a legitimate chance to reach the 4A state tournament on a sunny, windy Thursday afternoon at Bob Pavlich Field in Prescott Valley.
Underdog Palo Verde Magnet happily played the spoiler role, however.
Palo Verde junior midfielder Marilyn McFeaters scored on an incredible, arcing 25-yard boot in the 48th minute and the Titans' tenacious back-row defense turned away late shot after late shot from Bradshaw Mountain for a stunning 1-0 victory in a conference play-in match.
"It kind of wasn't really planned – the thought of scoring didn't come across my mind honestly during that shot," McFeaters said of her goal, which represented the Titans' lone shot on goal in the second half. "It's not the ones you miss. It's the ones you make."
The No. 11-seeded Bears (9-6-2, 3-2-1 Grand Canyon), armed with five senior starters, were eliminated from the postseason by the No. 22 Titans (12-11, 3-1 Gila) of Tucson in the single-elimination play-in round that featured Nos. 9 through 24th-ranked squads. Only the Top 8 seeds automatically qualified for the state bracket.
"Sometimes the better team doesn't win," Bradshaw Mountain coach John Sterling said. "That's the bottom line. We made one mistake [defending McFeaters], and that cost us the entire game. We just couldn't put the ball in the net."
Palo Verde will learn its seeding into the 16-team state tournament bracket from the Arizona Interscholastic Association (AIA) this morning. The first round is scheduled for Tuesday, Jan. 30.
The 2017-18 Bears could not end the program's state tournament-qualifying drought, which extends to the 2001-02 season, but they remain steadfast.
"It's never fun losing, but we seriously went down to the last second," Bears senior halfback Bailey Rozendaal said. "So, I'm very proud of how hard we played. We never got this far, and it just shows how much heart this team has."
What Bradshaw Mountain may not have realized is that Palo Verde coach Jim Mentz has served as the Titans' lead mentor for 30 years, since 1988, and he pulled out all of the stops in an impressive upset.
Palo Verde finished as state runners-up under Mentz in 2007 (4A, vs. Flagstaff), 2012 (3A, vs. Estrella Foothills) and 2016 (3A, vs. Fountain Hills). The wily Mentz's infectiously upbeat demeanor rubs off on his current players, who entered Thursday with postseason experience.
"With our players, this is a family right here," said McFeaters, who forgot her No. 15 jersey on the trip and had to wear back-up senior goalie Charlie Queen's No. 18 instead. "And we have each other's backs, and we try hard."
The Titans persevered through two separate waves of adversity this season. Whether facing highly-rated competition or suffering through injuries, they learned and grew from their mistakes with just two seniors on the roster.
"We started out 2-6," said Mentz, who credits his longtime assistant coach and former player of his, Deirdre Hartman, for her expertise. "Then we went 6-2. Then we lost four. Now we've won four. Every game we had to do a different style. It's a different team in November than it is now."
On Thursday, Palo Verde junior goal keeper Mackenna Martin-Ford and her back-line defense performed admirably, consistently knocking away close-range shots in the box in the second half. Martin-Ford finished with eight saves.
"They definitely had a lot of good players in the middle, and then that's kind of where our main attack usually goes down," Rozendaal said. "They kind of all grouped in the middle, so it was kind of hard to get a shot off because there's so many bodies in the way."
And yet the play of the game may have happened in the fourth minute. The Bears could've snapped a scoreless tie and gained momentum, but forward Serena Pelaez's hot shot in the box bounced off the left post and into the waiting hands of Martin-Ford.
In the last 26 minutes of regulation, Bradshaw Mountain controlled possession and had several scoring opportunities, including another Pelaez shot that ricocheted off the right post and a free kick from Marissa Archer that Martin-Ford snagged. The Bears outshot the Titans, 14-8, for the game.
After the match, Mentz, Hartman and his players gathered in a circle to celebrate the win.
"We had two fans [with us, in the stands]," Mentz said. "It was us against the world. We deserved the result that we got."
Doug Cook is a sports reporter for The Daily Courier. Follow him on Twitter at @dougout_dc. Email him at dcook@prescottaz.com or call 928-445-3333, ext. 2039.