Originally Published: January 25, 2018 6 a.m.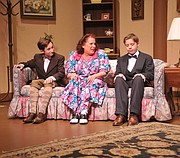 A Neil Simon play is always a treat. Considered by most to be a comic genius and one of America's great modern playwrights, Simon wrote "Lost in Yonkers" as a semi-autobiographical depiction of his own childhood. Keeping that fact in mind as you take in a performance enhances the experience.
Jim Pyduck directs this perfectly cast production for Prescott Center for the Arts.
The play is set in Yonkers, New York, in 1942. Two boys aged 15 and 13 are sent to live with their tough-as-nails German grandmother, and developmentally challenged aunt, for almost a year when their father must travel for work to pay off a loan shark.
Duncan Calhoun and Asa Dougherty play ill-fated brothers Jay and Arty, who are none too happy at the prospect of bunking at Grandma's for 10 months. Louise von Schill is wonderful as the hapless and bitter Grandma whose occasional, almost smiling pursed lips hint at her secret enjoyment of her grandsons' presence. She would never ever let on! It's a subtlety that softens her otherwise battleax of a personality.
Despite their youth, Calhoun and Dougherty capably portray the wide range of emotions required of their roles, with outstanding comic timing to boot. The two convey typical boys' mischief, anger at Grandma's unfair treatment, homesickness for Dad, the desire to run away, and much more. It's all acted so well! And at the risk of embarrassing eighth grader Dougherty, he's about as cute and engaging as they come.
Ron Bowen plays the boys' devoted and recently widowed father. Audiences will sympathize with his caring temperament and vulnerability. Apart from the beginning and end, Bowen appears throughout the play in cleverly conceived vignettes in which he narrates the endearing letters he writes to Jay and Arty.
Childlike Aunt Bella is played by the terrific Robyn Allen. Supposedly too mentally incompetent to take care of herself, she is thrilled to have her nephews staying with her and her mother. During the boys' stay Bella meets a man, similarly disabled, with whom she considers both marriage and starting a restaurant. The scene in which Bella tells the family of her plans is both funny and poignant. In a later scene Bella finally tells Grandma of her struggles with the internal tug-of-war between her status as a "child" and her desires as a woman. It is one of the play's most affecting moments of many.
The always excellent Jonathon Perpich takes on the role of Uncle Louie. The boys catch on to the fact that Louie is a gangster who is wanted by the mob. His is another nuanced portrayal, in this case blending the hardness of a criminal with the love of a protective uncle. Perpich manages to make Louie a quite likeable character.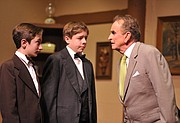 Nancy Dunham plays sweet and unassuming Aunt Gert, who appears to be the only one of Grandma's children to lead a normal adult life. Still, she takes on an alarming verbal spasm in Grandma's presence.
Simon draws all of these characters with depth and purpose. Each has something to teach Jay and Arty … and, perhaps, us.
This near-flawless production is a rare opportunity and a must-see for theater loving Prescottonians.
"Lost in Yonkers" will be performed on the Mainstage at Prescott Center for the Arts Theatre, 208 N. Marina St. in downtown Prescott, Jan. 25 through Feb. 4, 2018. Evening performances are Thursdays, Fridays and Saturdays at 7:30 p.m.; matinee performances are Sundays at 2 p.m., with an added matinee performance on Saturday, February 3, at 2 p.m. Ticket prices for evening performances are $22 adult and $17 youth, for matinee performances $18 adult and $14 youth. For tickets call the box office at 928-445-3286. Tickets and information are also available on the PCA website at pca-az.net.