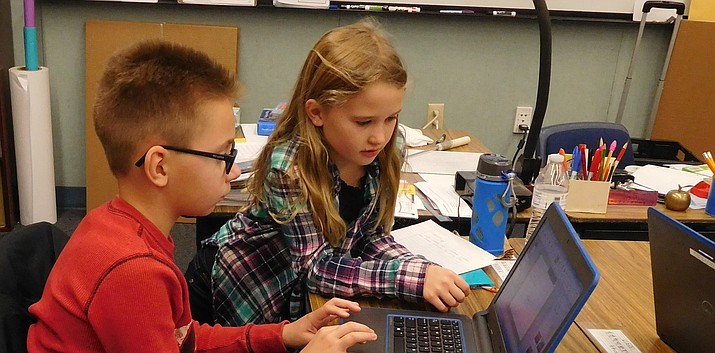 Originally Published: January 22, 2018 6 a.m.
The Humboldt Unified School District is offering a community opportunity for parents, grandparents and anyone who works with or cares for kids.
Texting, livestreaming, Instagram, Minecraft. What are kids doing on the internet? Who are they communicating with?
Learn about social networking, texting, gaming, and how to help your child use the Internet responsibly at our Family Tech Talk Night at 5:30 p.m., Thursday, Jan. 25 at the Glassford Hill Middle School located at 6901 Panther Path in Prescott Valley.
Technology is changing fast, and many of us are struggling to stay one step ahead of our kids and learn everything we can about being online.
This is not an easy task — our kids have never known life without the internet and in many cases, they know more about it than we do. The Tech Talk night will be presented by Sirinda Glasgow of Trend Micro, Inc.
Trend Micro was established 27 years ago and with more than 5,500 employees it is the largest independent cloud security company in the world. Their message is simple when it comes to promoting online safety in community, "be great at being online."
Trend Micro educates communities around the world to be safe, responsible and successful online, encouraging everyone to embrace the online world.
The internet and all things tech is a huge part of our future, it is here to stay and it is our responsibility as a community to embrace it. Trend Micro has created a base of volunteer employees trained on internet safety.
These volunteers are part of their Internet Safety for Kids and Family program. Let's embrace the digital world as a community.  
HUSD is proud to have Trend Micro bring their commitment to internet safety to our district. Their highly trained employees around the world are their volunteers and they are committed to the ISKF cause.
They have reached over 1 million parents, educators and students across the globe. Trend Micro collaborates with academia, law enforcement, industry and government around the world with the key focus at all times on youth and community empowerment online.
Please join us as we discuss what our children are doing online and how to teach them to be smart, safe, and respectful digital citizens. During the Tech Talk Night you will learn about the importance of knowing the sites and apps your child uses and how kids are using mobile devices like smartphones and tablets.
Trend Micro will also cover topics such as social networking sites and how to help your child use them wisely and discuss what to do if your child encounters online bullying. Finally, Trend Micro will cover objectionable content, how to block it, and what to do if your child views it online.
HUSD encourages anyone in the community who has children or works with children to attend this one night tech talk so that we can encourage our children to be digitally responsible now and in their future.
This event is free and open to anyone in the community who wants to learn more about the internet, social media and online devices being utilized by our children.
For more information, please contact Robin Rojas, Glassford Hill Middle School PTO President, at 928-759-4655 or at glassfordhillpto@humboldtunified.com.
Information provided by Humboldt Unified School District.
More like this story