Originally Published: January 21, 2018 5:57 a.m.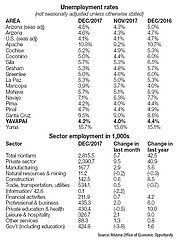 PHOENIX — Arizona's unemployment rate ticked up by two-tenths of a point last month.
But the change may have less to do with the relatively slow growth in the number of jobs, at least by historical standards, than the fact that more people think the environment is good to at least go out and look for work.
The Office of Economic Opportunity reports that far more people told surveyors that they were looking for work in December than the number of jobs created. Put simply, when that occurs, the unemployment rate goes up.
Doug Walls, the agency's research administrator, said he cannot say how much of that labor force increase is people moving to Arizona versus those who had previously stopped looking now deciding to try again. But he said part of the renewed interest may be that wages in the state are going up faster here than that national average — by a lot.
The new figures put average hourly earnings in Arizona up by 6.2 percent in the past year. By contrast, the change nationally was just 2.6 percent.
Walls said he presumes at least some of that is due to the big jump in the minimum wage that voters approved in 2016 and took effect last year. That boosted the bottom from $8.05 per hour to $10; it is $10.50 for 2018 and eventually will go to $12 by 2020.
That not only pushed up those at the very bottom but also likely created upward pressure on employers to increase the pay for those who already were at or close to that $10 level.
Walls noted, though, that the increases are not only in the sectors of the economy paying the lowest wages.
For example, the average hourly earnings among those in trade, transportation and utilities last year was $24.34, up by 7.2 percent. Wages were up by 6.5 percent among professional and business services, with a 5.3 percent increase in leisure and hospitality — things such as bars, restaurants and hotels — where the average reached $14.97.
Salaries in manufacturing were virtually unchanged year over year, coming in at $24.06 per hour.
The state's retail industry remains a big disappointment, shedding another 1,900 jobs between November and December even as the state headed into the big Christmas season.
Walls said that's not surprising, given the increased competition that retailers face from online commerce.