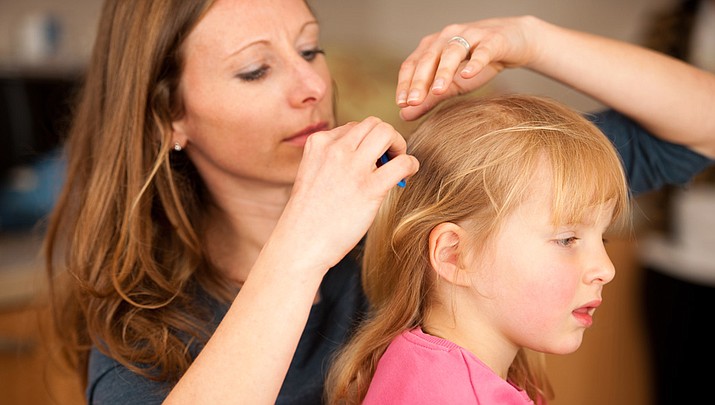 Originally Published: January 20, 2018 6:05 a.m.
6 "nice" things about lice
1) Personal hygiene and household cleanliness have nothing to do with getting lice.
2) Dogs, cats, and other pets do not play a role in the spread of head lice.
3) It is unlikely that lice spread in a swimming pool, although they can live for several hours underwater. Lice hold on tightly to human hair and do not let go when submerged.
4) Lice are less common among African-Americans, possibly because the claws on head lice are better adapted for grasping other types of hair shafts.
5) Lice don't fly. They cannot hop from person to person. They crawl from hair, hats, brushes, pillows to new heads.
6) Lice do not transmit diseases.
The dreaded call or letter comes from your child's school: Please check for lice.
In some districts and charter schools, students are sent home if live lice are found, and are not allowed to return to the classroom until a parent provides proof of lice treatment, such as a box top.
More and more, schools are following the recommendations of the National Association of School Nurses to balance education, absenteeism, and prevention when students have lice. Some changes may surprise educators and parents.
NASN believes the management of head lice should not disrupt the educational process. No longer should a student suspected of having lice be pulled from the classroom and sent home. Nor are students required to stay home if nits are found after treatment.
The Environmental Protection Agency agrees, stating on its website that lice are not known to transmit diseases and therefore are not a public health hazard.
Also concurring, the Centers for Disease Control states, "The burden of unnecessary absenteeism to the students, families and communities far outweighs the risks associated with head lice."
SIGNS OF LICE
That tickling feeling of something moving in the hair, usually at the back of the neck, could indicate lice infestation, as well as itching. Sometimes scratching can lead to sores.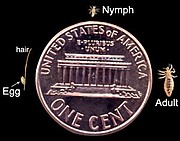 Adult lice are small, about the size of a sesame seed, and have six legs. Females can lay about six eggs each day, and live for about a month. Nymphs, newly-hatched lice, survive for eight or nine days before becoming adults.
The eggs, called nits, are tiny, about the size of a knot in thread, and firmly attached to the shaft of the hair near the scalp. They are oval-shaped, light-colored, and often mistaken for dandruff.
Nits located farther than a quarter-inch from the base of hair shaft are dead or already hatched. The CDC states, if no live lice are evident, and the only nits found are more than a quarter-inch from the scalp, the infestation is probably old and no longer active and does not need to be treated.
TREATMENT
Commercial lice treatments cannot kill nits, necessitating a second treatment seven to 10 days after the first. Use the shampoo on dry hair and comb through small sections at a time with a fine-toothed comb, depositing lice and nits in a bowl of soapy water. Leaving conditioner in the hair helps children through what can be a lengthy comb-out procedure.
Bedding, towels and clothing should be washed in the hottest water possible and dried on high heat, and the house and furniture vacuumed. Some recommend sealing stuffed toys in a bag for two weeks, but EPA said this is not necessary. Throw them in the dryer for 30 minutes on high heat instead. Soak combs and brushes in hot water for 10 minutes.
Lice cannot live without human blood for more than 24 hours, and nits cannot live unless they get a meal of human blood as soon as they hatch, EPA states.
SCHOOL POLICIES
Prescott Unified School District's policy is short: "Students with pediculosis (lice infestation) shall be excluded from school until treated with a pediculocide."
Granite Mountain School Nurse Mai Ngyung said staff does not routinely check for lice. She will check students sent to her by teachers suspecting lice. If confirmed, she follows the guidelines of the Arizona Department of Health Services and will call the parent and send treatment information home with the student. After treatment, she rechecks the child for live lice and nits before the child returns to the classroom.
Humboldt Unified School District's policy: "Please call the school if your child has a communicable disease such as: chicken pox, measles, mumps, strep throat, conjunctivitis (pink eye) or any infestations of lice. The nurse or principal's designee will have discretion as to re-admittance for: diarrhea, vomiting, rash, etc."
District staff were not available to respond to the Courier's requests for how this policy is implemented at school sites.
Chino Valley Unified School District has a form letter that goes home to parents of the entire school if it finds a case of lice. The nurse does inspect the hair of students in a classroom where lice is suspected.
"They (students with lice) have to be treated and been seen again by me before they come back. If there are nits close to the scalp, they are not able to return," said Donna McBroom, district nurse.
She said this time of year usually brings on outbreaks with the sharing hats, coats and scarves, but she hasn't seen it in the district. She credits the parents with keeping a close eye on children's hair. Chino had more incidents of lice at the beginning of school year, and notifying and educating parents has improved the situation.
"It really is up to them to take care of the situation. All we can do is say, 'Yes, they have them, and they will need to be treated,'" McBroom said.
Acorn Montessori Charter School staff verified they had an outbreak recently, but did not want to comment.
PREVENTION
NASN recommends students remain in class, and staff should notify parent/caregivers at the end of the school day. It would prefer schools abandon the "no-nit" policy prohibiting the return of students until there are no visible nits, and eliminate classroom-wide screening. They recommend sending educational letters home.
In the classroom and playground, teachers should discourage head-to-head contact (including taking selfies), and the sharing of hats and scarves. Coats should be hung separately and not piled on top of each other.
One reminder from the EPA: Head lice indicate your child has friends.