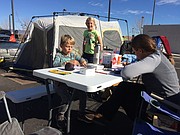 When the Chick-fil-A restaurant opens today, Jan. 18, the first 100 adult guests in line will receive a free year's supply of Chick-fil-A (52 meals). The restaurant is located at 5773 E. Highway 69, in front of Sam's Club.
The line officially opened at 6 a.m., Jan. 17, and by 2:30 p.m., participant #47 had signed in. The First 100 Campout had tents set up in the parking lot as many people showed up by 5:30 a.m.
David Pitman, 32, Tim Denner, 34, and John Kirk, 22, stopped by at 4:15 a.m., but were told to come back later.
"We went to Walmart and IHOP to get supplies and came back about 5:30. We're numbers 32 through 34," Denner said.
Pitman said he's happy not to have to drive to Flagstaff or Phoenix to get his favorite menu item, #1 — "the best sandwich ever" — waffle fries and lemonade. All three said they were surprised that the restaurant served them breakfast, lunch and dinner while they camped out.
The new establishment brings about 80 jobs to the area, according to the press release from the Prescott Valley franchise owner, Sarah Rodriguez.
She and her husband, Aaron, moved to Prescott Valley from Albuquerque in October because they felt the town would be a great place to raise a family, she said. Since then, they've gained a new family member, their newborn son.
During the grand opening of the restaurant, Sarah Rodriguez collected new and gently used children's books to benefit students at Granville Elementary School.
Kaci Call, 10, and her brother, Forrest, 7, colored pictures and wrote letters Wednesday afternoon as part of the Operation Gratitude activity that sends letters to military service men and women. They and their parents, Kerri and Brad, arrived before 6 a.m. together with grandparents and an uncle, #20 through #24.
"We're here for the memory of all of us doing something fun," Kerri Call said. "The food is a good reward, too," Temperatures Wednesday night were forecast for the low 30s. The Call family said they would be bundled up, but they are hardy stock, having moved to Prescott from Alaska a year and a half ago.
Driving from Paulden meant getting up at 4 a.m., said Elisabeth Partin. She brought a cooler full of food and then found out the restaurant provided meals.
"My kids talked me into this, and my husband said I should get the Mother of the Year award," she said with a laugh. She homeschools her children — Caleb, 12, and Joshua, 10 — who were a few tents away, playing cards with a new friend. They have a writing assignment due about the experience, their mother said.
The building seats 132 guests and has dual drive-through lanes. Hours of operation are 6 a.m. — 10 p.m., Monday through Saturday, closed on Sunday.
More like this story
SUBMIT FEEDBACK
Click Below to:
This Week's Circulars
To view money-saving ads...